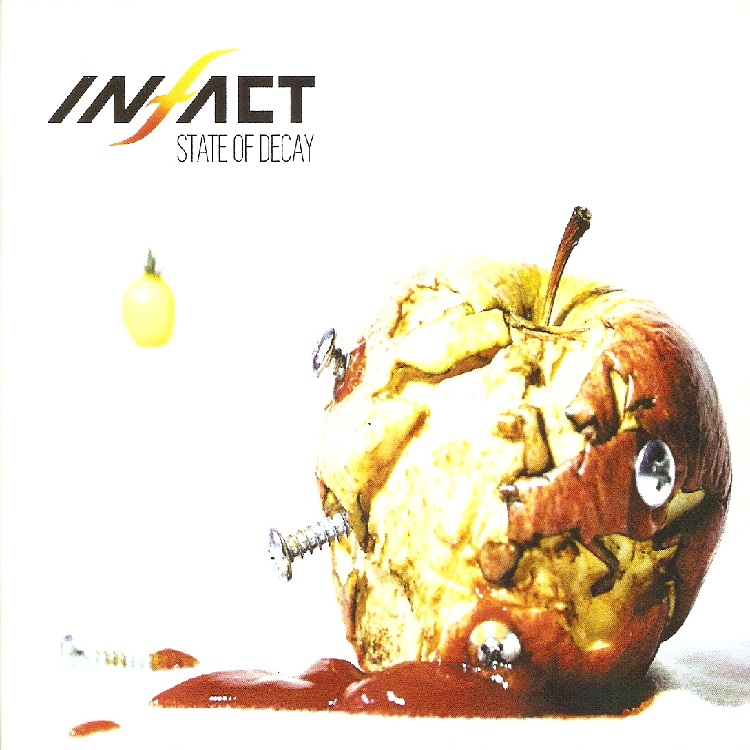 Last Friday, at the Kulturfabrik, was the release show of yet another Luxembourgish album: Infact's State Of Decay! Sadly, my review copy reached me a bit too late for a proper pre-release review, but better late than never…so here goes!
While the quintet has a fairly unique style with many, more or less, obvious influences; the main leitmotiv is definitely groove; add in some thrash and metalcore elements and you're pretty close to what Infact sounds like. Coupled with the very clean and powerful production, that mix goes down like butter.
The drums are a non-stop barrage of intricate double bass rhythms and diverse handwork, covering everything the ears desire. Along with the multifaceted guitarplay, which ranges from typical headbang riffs to fairly melodic parts and fast-paced solos, the instrumental front is hands-down a forte of these fourteen tracks.
The vocals on the other hand, I'm kind of hot and cold about…while the guy definitely has great pipes and a remarkably broad range, it's a bit too much all over the shop for me. His main style is very much alike Volbeat's Michael Poulsen's singing, which I absolutely dig because I can't think of anyone in our little country that sings in that direction. The occasional screams and growls are also a nice little addition, which blend fairly well into the ensemble, but in a few instances, he adapts a very high-pitched kind of singing or does seemingly randomly pitched parts, which just ruins the moment for me.
Another factor is the length: in my opinion State Of Decay would have been just as enjoyable at forty-ish minutes instead of the fifty-three minutes. But I guess that's just personal preference.
To sum things up, this second full-length is a really strong endeavor and it should be to many people's liking. For me, it was definitely not a waste of time, but to be honest, it's not something that I will keep on repeat until the day I die. If I managed to make you curious, head over to the band's Facebook page and listen to the song below!
[youtube https://www.youtube.com/watch?v=_suNmhiTKfg]