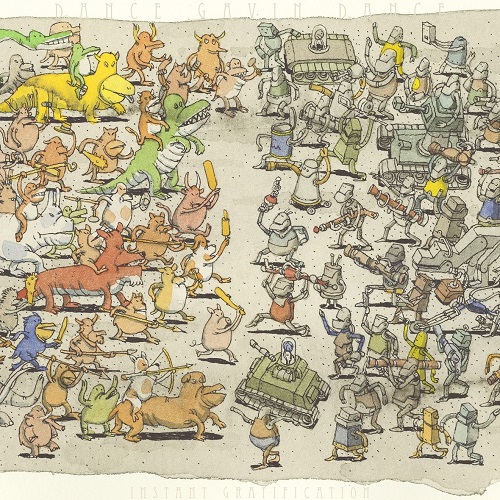 Nothing can be more devastating to a band than losing their lead singer; a fact that has lead to the demise of quite a few very promising ones in the past. There is, however, one band that has evolved in a very positive way with every singer they had. Of course I'm talking about Dance Gavin Dance, who are back with their sixth full-length Instant Gratification…and boy, is it a banger!
This is the second record in a row of the quintet with Tilian Pearson in charge of the clean vocals, and it just feels like he's played a much bigger role in the creation of it. Don't get me wrong, the predecessor, Acceptance Speech, was a really strong record, but at times it felt like it was written with the previous singer, Jonny Craig, in mind. The timbre of the two singers is very different, however, and so it felt off at some points. These twelve songs on the other hand demonstrate a perfect fusion of all the elements, and are a pure aural delight.
Musically, there are two things that immediately caught my attention: first off, this is definitely the heaviest DGD album to date, and the erratic and highly technical guitar play and drumming is often reminiscent of Secret Band, a side project of some of the members, which injects a new kind of power into the Californians' sound. The other thing is a clear resemblance to Tides Of Men, Tilian's former band, in terms of groove and the structure of the melodies. Truly a mix of two very different worlds that results in one delicious post-hardcore stew that takes no prisoners.
When it comes to the vocals, what can I say? The screams have already been perfect in the past, but I feel like this time around they're even a tad bit stronger…maybe just my impression. With the change of the instrumental backdrop, the cleans feel a lot more organic this time around and Tilian seems to be vastly more at ease, because he pushes his voice to its boundaries. On top of that, there's a track, Eagle Vs. Crows, with raps by the almighty Will Swan and the trifecta of voices on that one just blows everything out of the water!
Last but not least, if you are familiar with the band, you will know that the lyrics, especially the screamed ones, are very…unique. This hasn't changed on these forty-three minutes, and I couldn't be happier about it! So, watch the video below and be sure to give Instant Gratification a spin, since it's a masterpiece that you don't wanna miss! Also, head over to the band's Facebook page for more information and a link to the official album stream.
[youtube https://www.youtube.com/watch?v=5x_pZoYwc78]