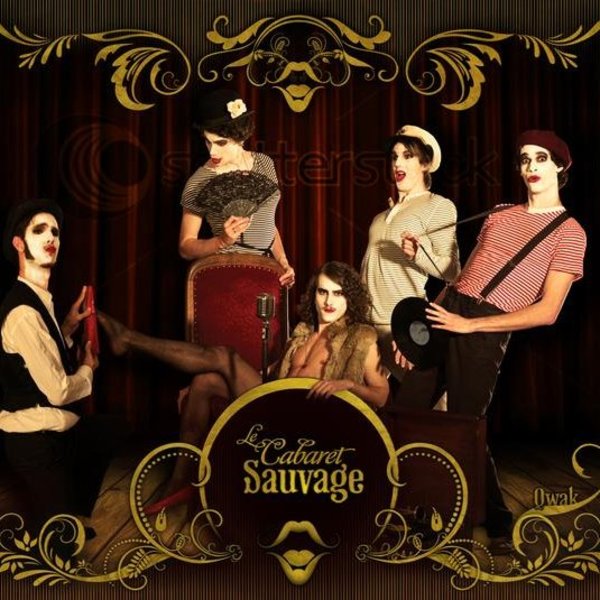 A very different sound experience reaches us from the Luxembourgish combo of Le Cabaret Sauvage.
Just like a walk through the artist's quarter in Paris, there are lots of different alleys with many different street performers to discover. Be it Chanson, Hip-Hop, Rock, Progressive, Songwriting, Indie, Funk, Jazz, everything is bundled in this album during which you can doubtlessly enjoy your coffee while wiggling your bum on the chair. Despite the varieties, all those different artists you're going to meet never produce complete confusion.
Every time the feeling of monotony arises, be it due to the popish and funky construction or the smooth vocals, there will always be a prog or funky rock riff, or a guitar solo. Nicely placed by changes of tempo, they enlighten the alley you are walking trough. That solos apparently indicate that this guitarist is one of those guys that give their instruments girl names and have sexual intercourse with them.
Even if the boys sometimes stray through what you may call "standard French Pop", I always found the melodies kind of catchy. Not to forget the climaxes, which coincide with my personal taste considering progressive music. Choose your side.
The vocals give their very own charm to the whole work, although Le Cabaret Sauvage would perfectly work without any singing at all. Pulsing percussions, trumpets and a groovy bass and drum play round out a many-faceted and modern French night.
As already mentioned, this is a very alternative way of making music for a group of young artists from Luxembourg. Cheeky, fresh, advisable!
Recommendations: Mr Stress, Ce n'est que le dééébut!, Qualibri.
PS: thumbs up for the even more enterprising newer stuff I could witness during the last live performance.
[youtube https://www.youtube.com/watch?v=UcWkdEr829w]