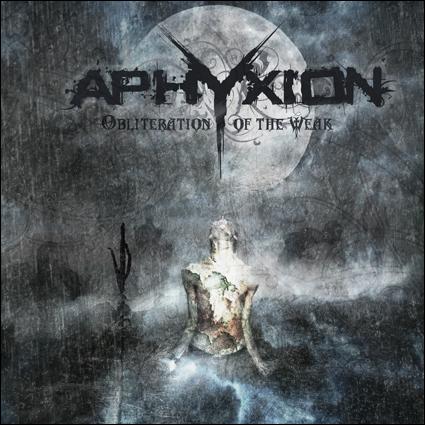 Aphyxion. A name that will most likely not ring a bell for a lot of people, however the people that do know the name will be able to tell you that it's a band that you should observe in the future.
The, surprisingly, very young Danish quintet shows a degree of professionalism in both their studio endeavors as well as their live performances where many bands these days barely manage to deliver on one of those levels.
Their 5 track 2010 EP Obliteration Of The Weak starts off with an eponymous track that lets you know in the first 15 seconds what they're all about: heaviness mixed with that well-known Scandinavian groove.
On the instrumental level they remind me of a modern take on At The Gates' Slaughter Of The Soul, which is definitely a good thing. One could also compare their sound to the older stuff of their compatriots from Hatesphere.
The vocalist's screams are on an equal level throughout the entire EP and although they are mainly guttural, he adds some small screechy nuances to them that give you just the right amount of diversity.
Soundwise I must say that I'm mostly surprised by how well it all sounds, especially because we aren't talking about a major label band here. No, my guess is that this was a rather low-budget production and yet the result is just impressive. The drums don't sound over-triggered, as is often the case with new bands these days, and the guitars come at you with a thick clear sound.
There is, however, one negative point that struck me during my listening sessions: a lack of diversity. After listening to the EP around a dozen times I wasn't really able to differentiate clearly between the songs. Despite that, I am confident that this is something that will pose no problems to them on their next record since I've had a chance to see them live not too long ago here in Luxembourg and unless my ears betrayed me they played new songs that have a much diverse sound to them.
All in all I can only say that you should definitely give this fresh band a try since they hold a lot of potential and I, for one, will follow their evolution with great interest.
And if you get the chance to see them live, do so. Their energy on stage will surely make you bang your head (or ninja-dance around, if that's what you fancy) and they are genuinely nice people have a drink with and talk to.
Be sure to check out their Facebook profile and the song below.
[youtube https://www.youtube.com/watch?v=LUSroUOB9do]