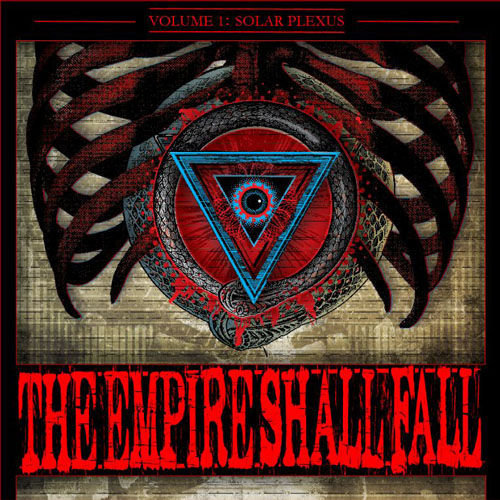 Killswitch Engage: a name that pretty much every metalhead has at least heard before. Their first album Alive Or Just Breathing featured Jesse Leach as a singer and is to this day still a milestone in metalcore, at least in my opinion. After its success however, he decided to leave the band and did a couple of side-projects, one of them was The Empire Shall Fall. Their 2009 release Awaken went completely unnoticed by me and I was quite delighted when I stumbled over them in 2011 when I heard that they'd release a new album called Volume 1: Solar Plexus.
The record, which as the name might suggest is the first part of a trilogy, was released in December solely in a digital format in order to save unnecessary expenses and took me by complete surprise since I had no real clue what I'd get for my money. But since I absolutely loved Leach's other project Times Of Grace I decided to give it a shot. To put it mildly: I was not disappointed, at all. I should add that the record was released on vinyl a bit later, for those of you that are into that.
The seven song album starts off quite fast and then almost immediately settles into a mid-paced groovy tempo without losing a bit of its heaviness. The rest of the songs always keeps a similar approach which never puts you out of the atmosphere of the whole thing. More non-traditional instruments, at least to the genre, are thrown in as well on the journey. Things like pianos and saxophones just give it a slight jazz feeling which simply fits perfectly.
Every single instrument has a rich sound and hits home non-stop; especially the guitars sound like your finest djent band at some points and make you wish there was more than twenty-five minutes of music. On top of that are the magnificent vocals which alternate between melodic singing and raw screaming.
That is all I'm going to write since I believe you should check it out for yourself, especially since it's a rather short pleasure. I for one am looking forward to the sequels to Volume 1; even though their release is sat in the stars, since Jesse rejoined Killswitch Engage and might not have time in the near future. I'm sure that the wait will be worth it though. Be sure to check out their Facebook page and listen to the song below.
[youtube https://www.youtube.com/watch?v=9KZtDwWvGlQ]