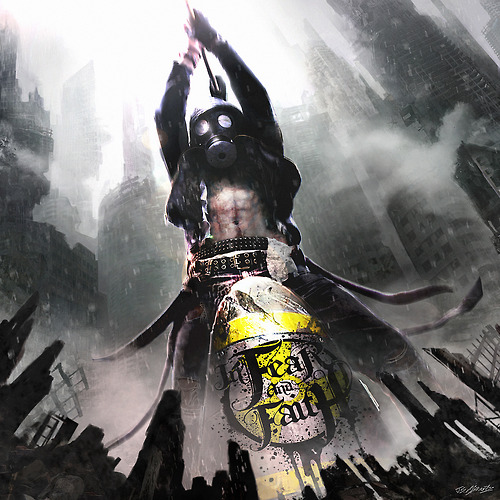 In April 2010 I discovered In Fear And Faith at a show and really enjoyed their set, so I talked to them after the show for a while and bought the two CDs they had put out at the time. However, they told me that they were about to release a new album called Imperial in June, so I decided to pre-order it on a whim. To make it short: I was overwhelmed by the progression they made to their previous record Your World On Fire and I listened to it repeatedly over the course of many months. Then as time went by the band underwent several changes and I was worried what might happen to them…my worry was completely unfounded since their newest self-titled release blew me away even harder.
A bit of an introduction: it's a concept album about the survivor of a nuclear apocalypse who is the only one to be able to breathe without a mask, which evokes feelings of loneliness and self-questioning in him. He then travels through the devastated lands and is plagued by nightmares and such. This whole journey is wonderfully underlaid with different musical aspects, many of which gave me severe chills; in the best way possible.
The first thing you'll notice if you're not familiar with the band is that they have a lot of piano (not keyboard) parts and that the other "modern" instruments support the "classical" instrument, rather than the other way around, which is something rather unique to the genre in my opinion. This also gives each and every song a symphonic and epic touch but to a degree where it doesn't overload your senses: you can listen to it without having to focus one hundred percent on every little detail and still be engulfed by the twelve songs.
Aside from the simply fantastic piano play, the guitars also stand out really well and give the whole thing the perfect amount of heaviness. There are a handful of riffs that leave my mouth wide open whenever I hear them because they're not only perfectly written but are also used at the perfect moments. To top it all off: they exactly hit my taste in tuning and production…a true treat. Due to my apparent inability to track down a bass line in music in general I can't really comment on it too much, but in the few instances where the bass guitar is clearly audible I enjoyed it thoroughly since it complements the drums perfectly.
Which brings me to one of the biggest "wow"-factors of these forty-four minutes of goodness: the drumming. First of all, I'm absolutely in love with the way they sound: even though slightly over-triggered it exactly hits the spot for me. Secondly, the double bass play is just phenomenal and makes me automatically try to tap my feet along to it…needless to say I don't quite succeed. Last but not least is the general rhythm that the drums have to them which exactly fits the vibe of the other instruments.
The other big selling point on this CD are the vocals, especially more so if you know a bit about their back-story. Quick sum-up: on the previous three records IFAF always had two singers who split clean and unclean vocal duties. In late 2010 they were only left with one, the clean singer, and the future was uncertain for a while…in 2011 however it was revealed that he was taking over screaming duties as well. My first reaction was mixed since he has a very clean and soft singing voice but on their Symphonies EP I was proven wrong. In the year that has passed his screams have improved further and he has even surpassed his former co-singer, in my opinion. The icing on the cake is a guest appearance by We Came As Romans singer Dave Stephens on the song The Calm Before Reform.
All in all, it's quite safe for me to say that this album is a very strong rival to my current number 1 record of 2012 by Pierce The Veil, and it might even surpass it in due time. Ironically both bands hail from San Diego, California. I strongly recommend that you check it out for yourself and I hope you enjoy it even half as much as I do. More information can be found on the band's Facebook page and a little taste can be heard below.
[youtube https://www.youtube.com/watch?v=KWhsZgDxl0c]