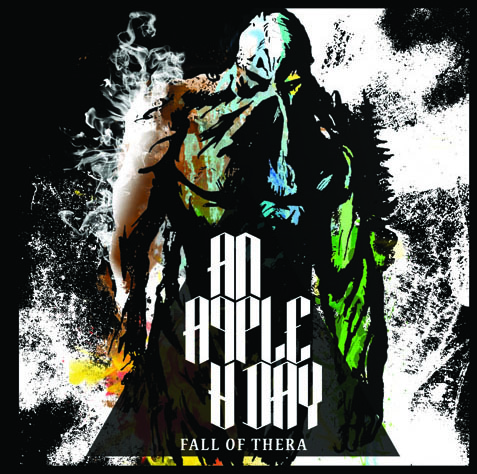 We all know the saying "An apple a day keeps the doctor away"; in the case of the Luxembourgish band An Apple A Day this could not be any more wrong, because after listening to their brand new EP Fall Of Thera I almost needed a doctor for my aching neck! Let me tell you why that is the case.
The quintet has moved away from their old deathcore style and now plays modern death metal with minor elements remaining from their roots. I'd say that it's a mixture that is appealing to both traditional metalheads but also to the modern crowd, but you be the judge of that.
The first thing that will strike you when you start listening to the six songs is the massive sound: I'm not kidding when I say that the band doesn't have to fear comparisons to bigger bands because what they managed to achieve on this record is just amazing. The drums have a rich, yet not over-triggered, sound and the guitars will tear your ears right off the sides of your head.
But the close to perfect sound isn't all there is to it: the drumming, mainly the double bass, will keep you interested all throughout these twenty-four minutes with its pounding rhythms and its groove. The same goes for the guitars which feature riff after riff of goodness, and some rather interesting solos.
The forte of this whole thing, to me, are definitely the vocals though. The singer constantly switches between (really) deep growls and screeches with some occasional pig squeals and clean vocals here and there thrown in for good measure. I'd even go as far and say that this endeavor grants him access to the hall of fame of Luxembourgish metal vocalists, if there is such a thing. But apparently the band wasn't satisfied enough by their own singer, so they decided to get Sacha from local matadors Scarred to help out on the last track.
All in all, I'm going to go out on a limb here and say that this release is probably the one Luxembourgish (metal) effort of 2012 that you absolutely have to check out. And the time and place to this is this Friday, December 21st, at Rockhal in Esch where the guys will have their release party with support from Falling Promises and Lost In Pain. For more info check out the band's Facebook page and if you want to get in the mood for the concert, listen to the song below!
[youtube http://www.youtube.com/watch?v=V6Z0KHEvu4M]