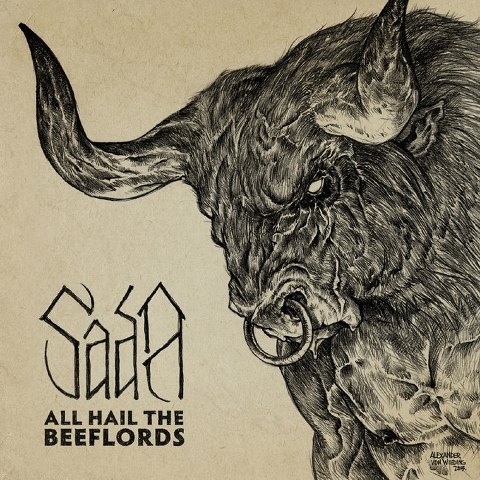 All Hail The Beeflords is one of those albums that seem to sound exactly like the cover looks like, or the title sounds like. The British quartet provides a dry and riff loving LP with some downs, many ups as well as many 'Fu Manchesque' or 90s moments.
The short opener already predetermines the direction of this almighty bull. Hard riffs, changes in tempi and songs that rear up until the climax is smashing the listener's ears as heavy as finest stoner rock can do. The production is characterised by an authentic live sound, giving the drums another pushing trait. Yet, songs like XII Rocks never overdo the madness by slowing down the pace from time to time.
The vocals stick to the cliché, which works most of the time, although one has to say that especially the lyrics are way too platitudinous. SADA surely is a band that should be cherished for their riffs instead of their poetic deepness, to put it that way.
All Hail The Beefloards and _ are two songs that interrupt the stampede, the first one being a psychedelic Fantômas moment, the latter a kind of banal 90s 'ballad'. Holst and Devil Woman represent the more metal-like approach of the album, giving the second half of it a different but still hard rocking feeling. Bride of Cuntenstein kind of resumes the whole idea of All Hail The Beefloards: an awesome song name, speed changes, a hundred riff ideas, psychedelic moments and bull screams.
Conclusion: a nice little piece of live sounding stoner rock for not so calm moments.