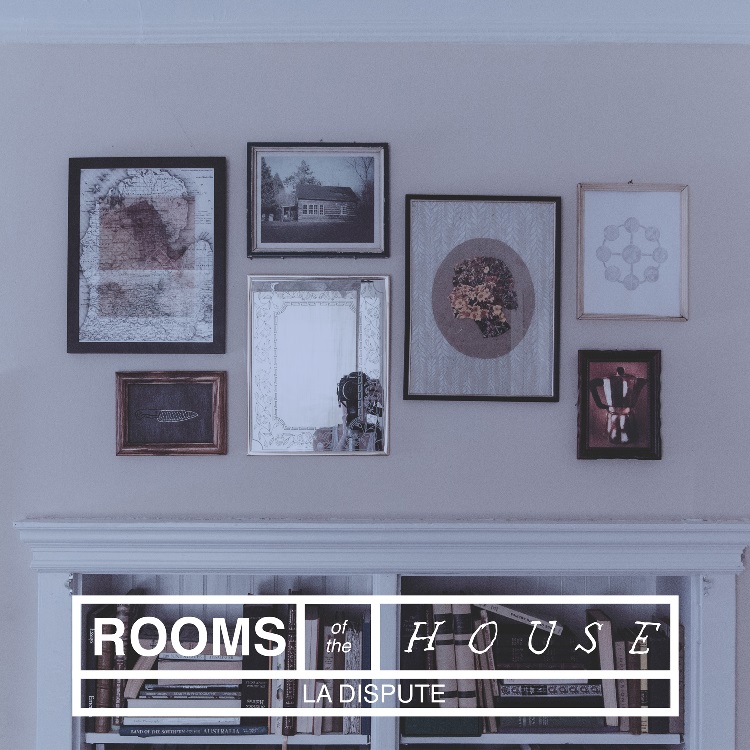 La Dispute are one of those bands that I enormously regret not listening to earlier in my life. It was only in mid-2013 that I was introduced to their 2008 debut album, Somewhere At The Bottom Of The River Between Vega And Altair, by a close friend of mine and ever since I have been entranced by its almost hypnotic effect. Which is why I was quite excited when the band announced that they'd release their new record, Rooms Of The House, on March 18th.
In case you are not familiar with the quintet from Michigan, it's probably easiest for me to say that they play post-hardcore, with an emphasis on the "post" part. While there are some screams and heavier parts, it's generally-speaking a very absorbing experience, much like post-rock. As a matter of fact, their third full length is their least chaotic record…but, to me, that just increases the level of the entire eleven-song ride.
Dissonance is, as on their previous endeavors, a very prevalent element in their sound and, combined with some of the almost hypnotic melodies, makes it a joy to dive into this musical journey. The drums follow partially very erratic patterns with lots of off-beat rhythms and intricate fills left and right which, you've guessed it, adds another layer of immersion. Furthermore, the production is clean but not over-polished, rendering it a pure auditory pleasure with its authentic quality during these forty-two minutes.
Over the few months that I've been listening to La Dispute, I've shown them to a number of people and the one thing that seems to make or break the band for most people are the vocals. Some complained that the singer sounds too whiny and off-key, others loved the raw emotion of his performance and had goosebumps from the first second. I, for one, am definitely part of the latter group and I couldn't imagine any of their songs without him. On Rooms Of The House he still does his spoken word parts, his occasional screams but the singing is more frequent, which I welcome with open arms…or ears rather.
The main selling point for me, and for many others, on any given record by the band are hands down the lyrics though. Such is the case this time around as well, because the story centered around Hudsonville, MI is simply beautiful and if you actually listen to the music, instead of just hearing it, you will be treated to a story loaded with pretty much every emotion that we humans can feel.
To finish up here, I can only say that La Dispute is not a band for everyone…and I'm thankful for that because the world they create for people like me through their music is very special, and I hate sharing. All kidding aside, I strongly urge you to listen to this record if, and only if, you are able to feel music instead of just using it as a pastime. Find the band on Facebook and see what the video below does for you.
[youtube https://www.youtube.com/watch?v=zSjTpcSxgjQ]