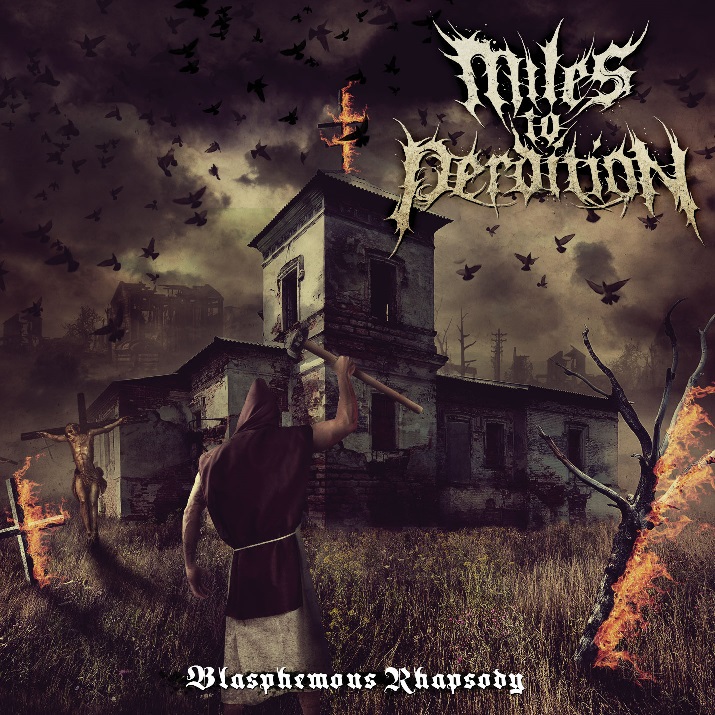 Before I start reviewing today's record, I have to admit that I haven't really been interested in Miles To Perdition in the past. I had seen them in 2010 as the opener for Avenged Sevenfold and I wasn't too impressed to be honest…at the beginning of this year I saw that they were about to release a new album and I thought to myself that I owed them a second chance…and I'm very glad I did, because what I heard on Blasphemous Rhapsody can't be compared in any way to what I was subjected to four years ago.
The quintet from Luxembourg has evolved into a melodic death metal band that understands how to make heads bang and bodies move. While there are a handful of breakdowns, their playing style is a very straight-forward barrage of brutality with little room to gain one's breath…just how it's supposed to be.
The string section is a very organic mix of chugging rhythm and technical lead guitar riffs, with occasional solos that serve the purpose of adding a melodic touch. The drums are a never-ending chain of blast beats and double bass madness, interjected by groove-laden rhythms that are guaranteed to make your head bounce up and down. The nine songs are, as mentioned before, on the faster side of the musical spectrum and due to their nearly flawless production, every little detail can be made out without having to strain your ears.
The heretic element of Miles, however, stems from the absolutely crushing vocal performance of their vocalist. Pretty much every form of screams is covered during the thirty seven minutes, be it deep growls or higher screams, but the main attraction is the fusion of both during certain parts where the guy sounds completely possessed…thumbs up for that. Lyrically, as you might have guessed from the album title, it's mostly a huge middle finger to organized religion, which is a bit over-done in metal but I can't hold it against the guys, since it is still a rather annoying reality these days.
All in all, Blasphemous Rhapsody is an album that I would strongly recommend to fans of bands like The Black Dahlia Murder and the like…and to the general public: give it a go; it might not be your cup of tea but it's definitely not a waste of time and yet another strong entry in our national musical catalog. For more information, be sure to head to the band's Facebook page and listen to the song below. If you like what you hear, be sure to head to Kulturfabrik this Saturday, May 24th, where the guys are playing their release show!
[youtube https://www.youtube.com/watch?v=9Dr6uub4tt4]