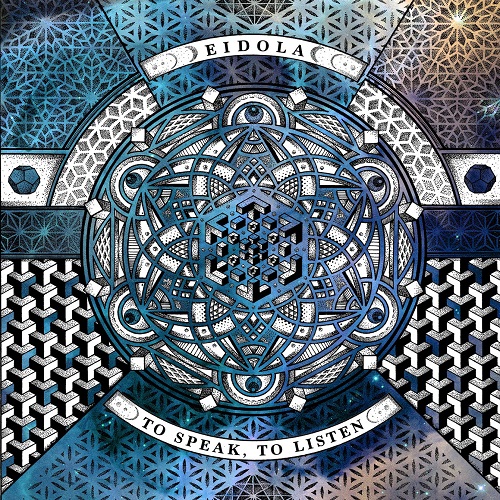 Two years ago, I discovered a band through a song off their back then unreleased second full-length and was so impressed that I blindly ordered their debut and pre-ordered the sophomore. My expectations were not met, but completely exceeded by Degeneraterra and it stayed on repeat for quite a while, which is why I was beyond excited when Eidola announced that they were already going to release a follow-up to it in 2017. Fast forward a little while to when I was granted early access to To Speak, To Listen and try imagining my amazement when I first listened to the phenomenal, albeit short, opener The Abstract Of A Planet In Resolve.
Basically, the quintet took everything I loved about the previous album and turned the dial to the max, despite it already being at eleven. Eidola is, to me, all about complexity, melody and diversity, all wrapped into truly solid songwriting and embellished with a really powerful sound. I can say without a doubt that all those boxes have been ticked on my checklist, and I can't even begin to explain how they've improved, but I'll try: every single instrument is bringing their A-game, with the drumming probably being my favorite element this time around, the levels of groove and crazy footwork along with the innumerable tiny accents and fills just blew me away every single time I've put these twelve songs on. And that has been close to three digits…don't judge me.
The melodic aspect comes in the form of, what I feel, way catchier choruses and individual parts than on the predecessor. The musical diversity is more or less at the same level, but even more tightly woven together by the songwriting: in spite of there being many changes in tempo, intensiveness and general vibe during the different tracks, it never once feels awkward or forced, a feat that really allows you to dive into the experience. This is even further facilitated by the glass-clean production which allows you to distinguish every single note of each and every instrument without any great effort. To give you an idea: I am a long-standing sufferer of the "I can't hear the bass guitar"-syndrome, but I feel like the bass on TSTL and I get along just fine.
Obviously, I can't finish this review without at least dropping a few lines about the vocals: you are still treated to a wonderful mix of screams and cleans, but I feel like they have both gained in prowess and fierceness. Especially the clean vocals have even further expanded their range, most notably in the upper register, and the screams are more predominantly represented during the fifty-two minutes than what you are previously used to. Lyrically, Eidola still wander on a fairly esoteric level, with mature topics and well-written lines, which is not always the best sing along material, but sometimes it's better -not- To Speak, and just To Listen. Thank you, I'm here all week.
What can I say? The guys from Utah have recorded a masterpiece and I can't wait to finally be able to show it to my friends and talk about it on June 2nd, when To Speak, To Listen is officially released. There is not a single doubt in my mind that Eidola is the next Blue Swan Records band to make the jump to a bigger label! Until then, support the band, buy their music and go see their shows…or at least like them on Facebook and jam the song below. Infinite love!
[youtube https://www.youtube.com/watch?v=Fy_QzJOUdyw]