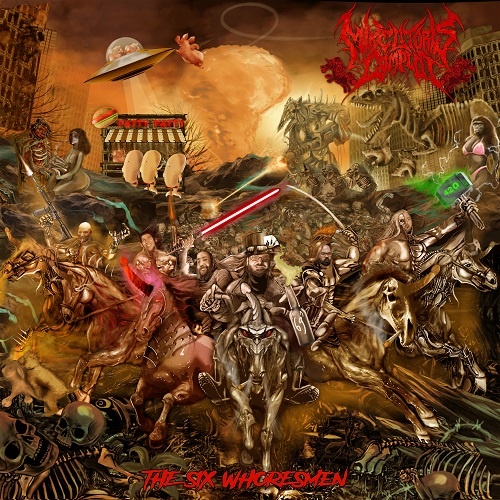 The thing I like the most about music is how it can evoke all kinds of strong feelings by simply listening to it, I feel confident in saying that I've gone through all the different aspects when it comes to then, but I've never felt like I had been assaulted after listening to a record, for sure. Today changes that though, since after finishing my first listen-through of Mike Litoris Complot's sophomore full-length The Six Whoresmen I had the strong urge to call the police and press charges…and I loved it!
The recipe is fairly simple: MLC took a look at their previous record and simply turned up every aspect, not to eleven, but to sixty-nine. While I already enjoyed the songwriting in the past and praised the band in the past for writing music with instrumental substance, I have to say that they improved upon that even further this time around. I feel like the drums go even harder and faster, the original guitar riffs bite slap you in the face even stronger and the parodies, or tributes, make you smirk even more.
The entire fifty minutes are frequently interspersed with self-produced interludes that are sure to upset the easily-offended but if you simply go with the flow, I can guarantee to you that you will laugh every single time you hear these comedic highlights; the heavy accents just add that extra special flavor to them.
The vocals on these nineteen songs are just as diverse as on The Art Of Pony Party and pretty much cover all your basic needs to turn your brain into mush: pig squeals go hand in hand with frog noises only to turn into super deep growls. And the lyrics are just as raunchy as you'd expect, and hope, them to be. But when the songs have brilliant titles such as Hydraulic Handjob and Rang Pang Vull an d'Mull, that is a given.
I also think it's about high time that I give a huge shoutout to the producer of this record: Marc Froehling has been responsible for the sound of quite a few recent local metal releases and they all sound brilliant! Keep up the good work!
This is honestly one of those records where I don't know what else to tell you, because you just have to experience it yourself. For me personally, The Six Whoresmen puts its predecessor to shame and I am confident in saying that it will further increase Mike Litoris Complot's rank in the porngrind scene! If you want to know more about the band, be sure to head to the band's Facebook page and once we are all allowed to go to concerts again, be sure to attend one of their shows…it's a visual treat for sure! Despite the circumstances, the record will be released on May 2nd, so keep that in mind, and to shorten that wait I am happy to premiere the first single off the record right here, so be sure to check out the video below!