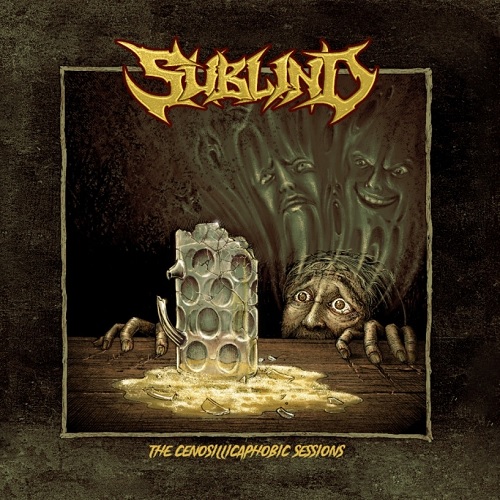 I've said it before, and I'll say it again: most Luxembourgish bands take way too much time between albums! It's been nine whole years since Sublind's debut album came out and they've played a ton of shows and have grown as musicians and songwriters alike, which is the other, positive, side of the long wait: it usually allows bands here to develop and mature their sound before releasing new music. Such is the case with today's beer-loving quintet, who are about to release their sophomore with one of the catchiest names in metal history: The Cenosillicaphobic Sessions. Rolls right off the tongue, eh? Now try saying it five times in a row. Let's dive in, uh!
Over the course of the past almost-decade the band has gone through several line-up changes where everyone brought their own flavor and expertise to the mix, which has resulted in what I would call a solidified version of the sound you know from Thrashing Delirium. Thrash metal is still the main course being served, but there are some elements from other genres that make guest appearances every now and then. One of the stand-outs in that regard is a track that has a sludge vibe to it, which goes down a route that you definitely haven't heard or expected Sublind in…and succeeds effortlessly.
Among the eleven tracks there are some songs that long-time fans and concert-goers know from the past, but they appear in a new shine here, especially the band's best drinking anthem, other than the iconic Humpeknupper of course, Highspeed Hangover hits harder than ever and despite having listened to it countless times five years ago while working on the lyric video, it manages to still get me pumped in this new version. You also get (re-)recorded versions of the, dare I say, oldies Bommeleeër and Cenosillicaphobia, which all sound great in their new coat of aural paint.
In my opinion however, the firm core of TCS is the trilogy of songs that starts with False Existence and tells a condensed version of the story of Dante's Inferno. Not only is it among the heaviest material the band has put out, but it also has compelling songwriting that flows well with the narrative. The two other new songs are just as solid neckbreakers, with the first single, For Those About To Riot, being another song with earworm potential. Last but not least, the opener and closer are what I would call joke songs…but they work great to get you pumped on your first listen and to re-listen for the umpteenth time respectively.
Vocally, the contrast is fairly stark when comparing the performance from ten years ago to today, because the amount of snotty screams is just perfect. The pressure that these forty-two minutes manage to convey is really remarkable…but I do have to mention that there is a slight dip in that at one point, however. And it annoys me to have to say it, because it's at the same time one of the cooler aspects of the album but also one of the weaker ones: the guys managed to get a guest appearance by none other than Tankard's singer Gerre on the eponymous track and while it is quite a privilege, it takes away from the power of the song, since the two vocalists have such a different singing style. Then again, I never really got into Tankard, so maybe it's just not for me.
This minor detail luckily doesn't take away anything for me, and it definitely makes The Cenosillicaphobic Sessions my new bar to clear (no pun intended) when it comes to (not only) local thrash metal. Sublind will unleash their new album for public consumption on March 24th with a release show at KuFa the following day, so mark your calendars and prepare your liver. In the meantime, check out the band's Facebook page and the hilarious music video below. Beers!