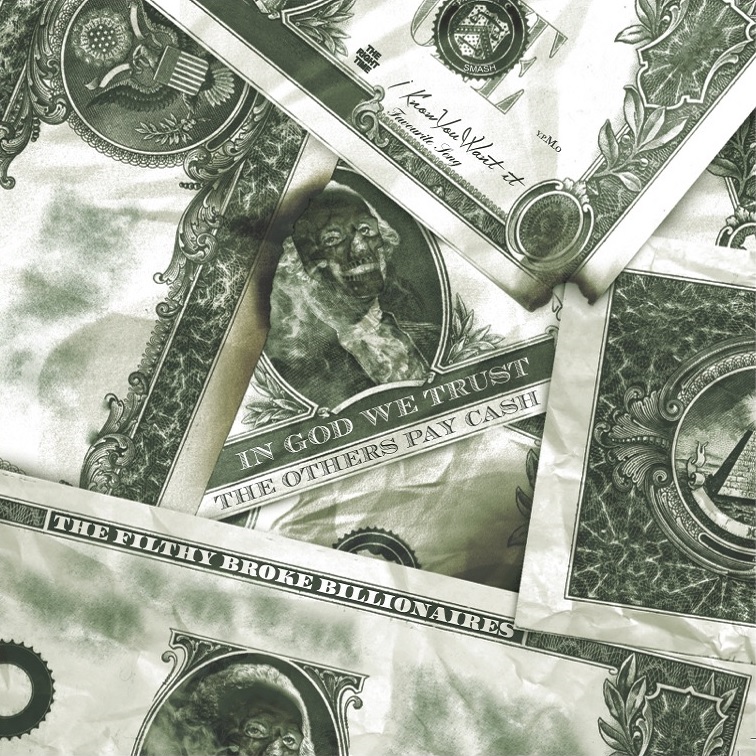 A new year means new releases to look forward to, which is always nice…even more so when it's a national release! The start of the annual Luxembourgish releases is made by the fairly new band The Filthy Broke Billionaires, that has their debut EP In God We Trust, The Others Pay Cash in tow! And I'm happy to give you my two cents on it before its release on January 15th!
While the band itself has only been around for about a year, all of its members are experienced musicians that wanted a change of scenery I guess, which is why they play something akin to classic rock, with a few hints of blues thrown in for good measure. The quartet has a fairly elementary line-up, comprised of drums, one guitar, bass and vocals, making the five songs a fairly easy listening experience that never throws too much to handle at you.
However, this approach doesn't entail a boring nineteen minutes, at all! Especially the guitar has some tasty parts that stand out quite a lot, mixed with the tight interplay between bass and drums and the powerful yet soulful female vocals, the time flies by without you even noticing it. The only gripe I have is the fact that the production is fairly old-school and could use a bit more of a punch in my humble opinion…but then again, I believe that the classic sound was one of the main ideas behind the EP.
All in all, I have to say that classic rock isn't really my thing at all…but after going through IGWTTOPC about twenty times, the EP has definitely grown on me. Personally, I probably won't have this on repeat until the day I die, but I can absolutely recommend giving it a fair listen! The band will be hosting a release show at Rockhal this Friday, so be sure to head on over if you like what you hear and in the meantime head to their Facebook page for further information! Read you soon, until then: have a good one!