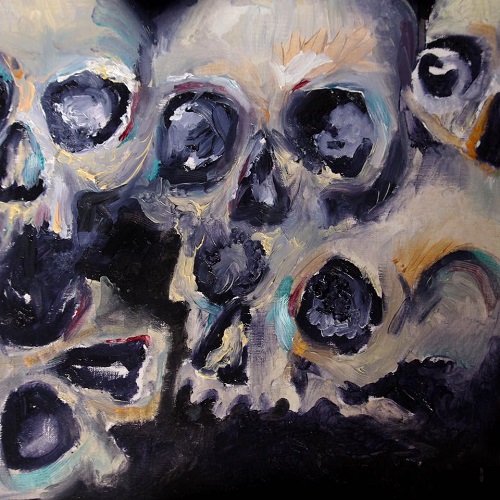 Today's review is a bit different than usual, because I'm writing about a local band where I purposefully ignored the release of their debut EP and didn't cover it on this website…that's how much I hated it. Two years have since passed and I'm delighted to say that Blanket Hill have fixed everything that I disliked about their debut on their sophomore release called Trenches Of Reality…well almost everything. But more on that in a bit.
In 2014, the quintet rose from the ashes of the hardcore youngsters Order Of The Oceans and underwent several line-up changes before settling on the constellation as it is today. The musical style has also been slightly altered, taking a more traditional old school route, akin to the NYC hardcore and throwing in thrash metal elements for good measure. While it is not them reinventing the wheel, they definitely know how to pull it off convincingly!
The six songs, one of which is an instrumental intro, flow nicely into each other and before you know it, you're done with Trenches Of Reality…but contrary to the predecessor, it never feels like you're listening to the same song over and over. The groove-laden riffs and the occasional short solo bring enough variation to the table to avoid that. This was hands down my biggest gripe with Kaizen, so I'm glad that it is no longer an issue, despite there still being some room for improvement.
The vocal situation is still very similar to what we previously heard: not quite my cup of tea, because it's too much Sprechgesang and fairly monotonous, but since it's almost a staple in hardcore, I can't really say anything bad against it. It just isn't for me. To spice things up. there is one guest appearance by Andrew Wilson of Revulsion that, sorry to say, does nothing for me either.
Reading through what I just wrote, it might seem that I hate the nineteen minutes that are ToR, but consider that I've never been a huge fan of the genre to begin with and that I see a lot of potential in the songwriting. So, please, do yourself a favor and listen to the song below to see for yourself whether Blanket Hill is your jam or not, and if they are, make sure to swing by Food For Your Senses in Luxembourg this weekend, where they will perform and release their latest endeavor to the public. More info on that can be found on their Facebook page, enjoy!