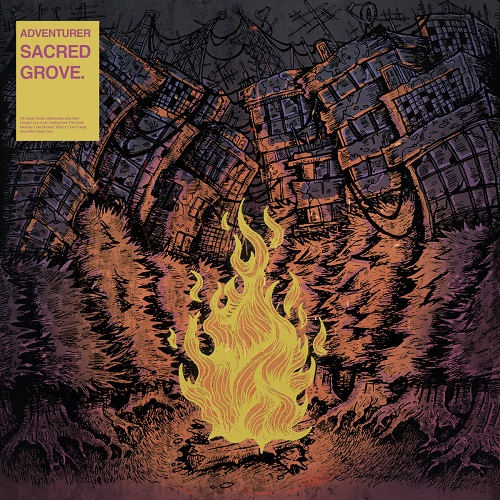 Every now and then, an album comes along that fans are anticipating and hyping up for so long that it's almost impossible that the final product will live up to the expectations. A bit more than three years have elapsed since Adventurer released their self-titled EP, subsequently signed to Blue Swan Records and talks of a full-length began circulating. Other than a small taste of the good stuff on a split EP in May 2016, the fans were sitting on blue balls, until the band finally dropped a new single in late August 2017…and the internet pretty much exploded. Therefore it is now time to find out whether Sacred Grove satisfies the adventurous craving, or not!
For those that are unfamiliar with the trio, I think the best way to explain their sound would be to say that they take the best elements of The Fall Of Troy, add in a few sprinkles of pop punk and fuse them together into a perfect concoction: a riff-fest from start to finish with frequent tempo changes, intricate drum patterns and a bass that actually adds depth to the songs, as well as super melodic vocals that are ideal sing-along material and, of course, fierce screams.
I, like so many other post-hardcore aficionados, was completely enamored with the Michiganders' debut and their overall sound, since it was so matured already, that I kept asking myself how they wanted to change or improve on subsequent releases and I must say that I don't notice a vast change on these ten songs when compared to the previous ones. But, it's fairly simple: why change a winning team? Everything that returning listeners liked before is still here, and new listeners will have a slightly more polished first experience. Win-win, in my book.
Perhaps this is just the case for me, but I found that the EP works best when enjoyed in its entirety, and such is the case with Sacred Grove as well: some of the songs don't do anything for me if I don't listen to the surrounding ones. Now, unless I am completely mistaken, this isn't a concept album per se, but the band's lyrical focus has always, and hopefully will always be, heartache and mostly failed relationships, so I would recommend adopting a similar approach and looking at these thirty-seven minutes as one complete, pardon the pun, adventure.
All in all, I think that Sacred Grove doesn't have to hide behind its predecessor and even outshines it in moments. While I wish there had been one or two more songs, I'll definitely take short and sweet over long and boring! Make sure to check out the album when it drops on Friday, September 8th, and in the meantime go listen to the song below or head over Adventurer's Facebook page to keep up with the news!
[youtube https://www.youtube.com/watch?v=OZzPwUQlr-s]