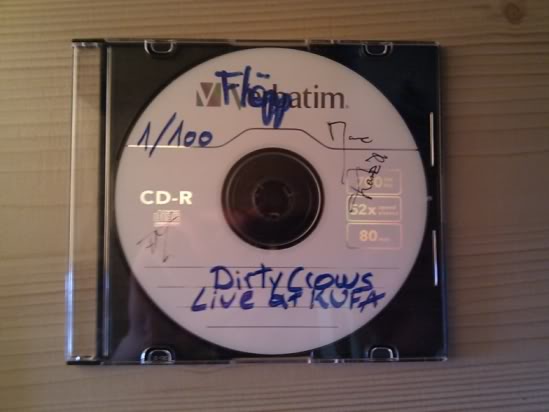 Imagine a small bunch of youngsters being at a point in life where lots of things are changing. They are in their mid or end of their twenties, they're about to start their own lives, maybe they already have started it a few years ago. Also, they all have played in several bands during the years, being grungy, being alternative, being post rock. Now imagine them founding a new band, what will it be? More Post Rock? Pop Rock? I mean, they're about to grow up, and adults have to play adult music. They could have done some sort of midlife-crisis-let's-all-go-to-bed-and-have-some-rest-at-10pm-pop-rock-band.
Thank satan, they didn't! The name of the band is Dirty Crows and that already is the way to describe their musical credo. Listening to them means tasting sand in your mouth, dry, crunchy, dirty. They call it desert rock, in fact it is some sort in between dirty rock'n'roll and stoner rock. To be short: Lemmy would be proud of 'em. Lyrics? Damn, you're sitting on a motorcycle hitting the road in direction of nowhere and you couldn't feel any better. Anyone who doesn't sometimes dream of it? Don't lie!
Screw perfect rock. People started buying vinyls again because they wanted their favourite music to have that scratchy sound again. So whenever you feel like listening to something which is perfectly imperfect then really go and try to get a copy of their live demo recorded during their first concert in the KUFA/Esch-Alzette. The bass guitar sounds like an electric mower trying to cut a whole tree, the lyrics sometimes interrupt, the entries miss, just the way I like it! Someone has just killed his girlfriend with a Kalashnikov. While trying to get away with his mustang he has to drive through a god damn hurricane. Oh really? Why the hell? Doesn't matter, the journey is the reward!
Looking forward to their first real album they're going to record during the next months. And you should too. Be dirty. Life's too short not to have some fun with simple music. As long as your hips move and your head nods it can't be too wrong.