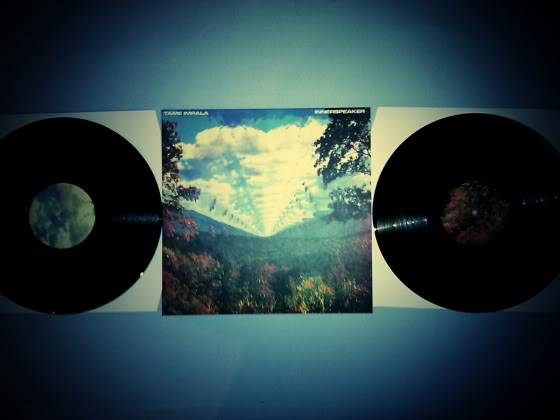 And now to something completely different: psychedelic rock.
This is about another of my favourite albums of 2010, which is already a lie, because I only discovered this band in 2011. It became my personal soundtrack of the summer, and the story behind this band is an exceptional one, considering the business that rules nowadays. Although the style and the sound of Tame Impala is everything but not suitable for mainstream listeners, they managed to be top of the Australian indie-charts with their first EP in 2008. This is a modern fairy tale regarding that there was almost no marketing machinery to contribute to this success. It would be like recording a few songs of your garage band with a semi-professional recorder and finish up by being played in the national radio all damn day.
Innerspeaker is their first full-length album. I must say, psych-rock never used to be one of my preferred genres. I guess this is mainly because it sometimes is kind of boring listening to endless and moony songs. Strangely this is not the case when listening to Tame Impale. Although the first song turns out to be just one of those musical smoked trees I just described, Desire Be Desire Go kills the cliché and reveals the true flair of this band, which the boys themselves described perfectly when defining their band as "a steady flowing psychedelic groove rock band that emphasizes dream-like melody." For me, it is all about the psychedelic groove rock part that makes this work so adorable.
Lots of people compare them to the Beatles due to the front man's voice. There is however one main difference: the songs on Innerspeaker actually have a climax (I like the Beatles nevertheless, don't panic). Another point I'd like to highlight is the grooving bass play, whose interaction with the drums shape the soul of the songs. The blurred guitar play and the resounding vocals round it all over. Not to forget the electronic features, which appear from time to time.
Songs like Solitude is Bliss show how tranquil and talented these young guys already are, which, on the contrary, doesn't mean that you can't hear any passion to experimentalise anymore. Expectation starts as a light, fresh-faced track which grows into an epic giant when you expect it to be already over. The riff in The Bold Arrow Of Time could have been from Kyuss themselves. I Really Don't Mind washes you away from this world with a sudden electronic blast before the drumming wakes you up again.
All in one this is an album which may cast a spell over you, or which you will not like at all. I think there is no third possibility.
Coming back to the cliché mentioned in the beginning: I actually was at a Tame Impala concert this summer, and yes, the location unfortunately was full of green smoke. However, what remained in mind far more stronger was their cover version of Massive Attack's Angel. Lots of kudos for that one!
Recommendations: Desire Be Desire Go, Lucidity, Solitude Is Bliss.
[youtube http://www.youtube.com/watch?v=vxvf7gR4-2M]