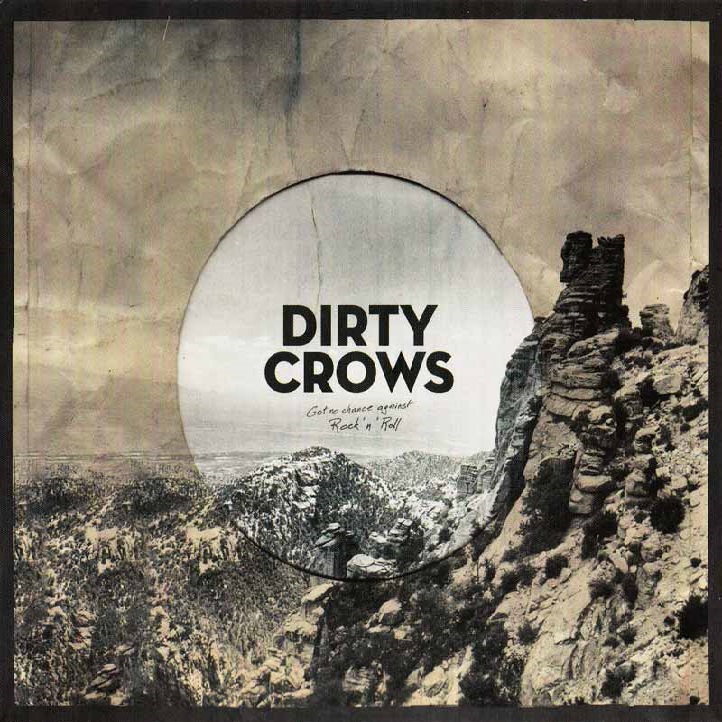 A sludgy and pretty threatening intro already hints at what the boys from Dirty Crows have aimed at over the last month: a step away from classical rock'n'roll and towards a doomier and more stoner way of blowing our socks off.
A newer and more monstrous version of The Kalashnikov Blues then raids you right away without any further warning. This crow has become a really dirty one; it behaves like an insidious rabid snake. You never know how and when it will attack. Unexpected breaks, pauses, changes of direction make this work unpredictable and distances itself from a classic 90s stoner record. The influences from that time are nevertheless obvious.
Producer Jan Kerscher did a great job in changing the band's sound, developing it like into some serious and dark business. The gloomy but driving main elements are somewhere in-between Fu Manchu, Kyuss and early Queens of the Stone Age. The drums have been tuned down, the vocals vary between sexy, clean and rough parts. The guitars bring us back to the crazy crow; they simply go totally wild sometimes, giving us an Era Vulgaris atmosphere at some points, together with other sound gimmickry and experiments. The desert picture is completed by a bass play that sounds like someone used rusty wires to play with.
Towards the middle of Got No Chance Against Rock'N'Roll you can witness a certain back to the roots feeling, meeting old songs in a more or less old arrangement, but deeper due to the new sound. Let's refer one last time to our stoned crow: it sometimes seems that this crazy bird overdoes when running amok. Well, you might say this must be part of its nature. I agree with that. But at some points you might expect kind of a "less is more" approach in-between abrupt breaks and drum driven doom parts. Great riffs nevertheless compensate some mentally disordered derailments. A good example would be It Ain't easy, for which I really tried but couldn't find the right words to describe its awesomeness, whereas the new Hit The Road may become a doubtful case.
The last points to mention would be the guest appearances (which I won't name because not everything must be revealed yet) and a very mature bouncer song. One thing is for sure, this record is meant to be played aloud! Let's see how this is going to sound live.
Recommendations: The Kalashnikov Blues, It Ain't Easy, Mean Thing.
[youtube https://www.youtube.com/watch?v=jaB0cJQBP5A]
If you have become curious and want to grab your copy of this debut: Dirty Crows will release it this Saturday at 5.30 pm at the Food For Your Senses Festival. See you there.