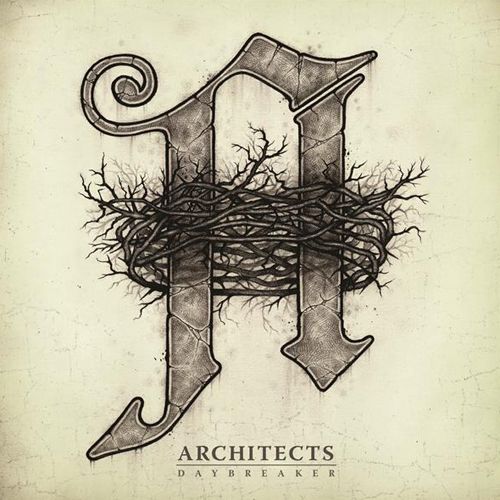 I'm pretty sure that everyone that is at least a bit into metalcore has heard of Architects before as they have managed to establish themselves in the scene quite well, at the latest in 2009 with their album Hollow Crown.
In 2011 they released The Here And Now which was quite different from the aforementioned album: a lot more melodic and "softer", but still a very powerful record nevertheless. Their latest endeavor Daybreaker however is very reminiscent of the 2009 released record.
In terms of instruments this means that it is a bit more complex and definitely heavier. Great, almost mathcore-ish, riffs are found througout the whole 42 minutes.
Sam Carter's vocals are, who would have thought (wink wink), at their usual high level. This guy just manages to deliver on all levels, be it super clean vocals or very emotion-ladden screams. You just believe everything he sings.
Then there are 3 guest appearances on vocals: Jon Green of Deez Nuts, Oli Sykes from Bring Me The Horizon and Drew York of Stray From The Path. The one that sticks out the most to me is Oli Sykes of Bring Me The Horizon on the song Even If You Win, You're Still A Rat. This is, of course, mostly due to the fact that I'm a big follower of BMTH but also because he sounds very different to the way he does on his albums. This might be because it's mixed differently or it might be a foreshadowing of THEIR upcoming album.
Lyrically the whole record is very sociocritical and songs like These Colours Don't Run are a prime example of that. And, because of the vocalist's talent, you can actually make out about 90% of them without even looking at the booklet.
All in all I can only say that this album is, in some ways, a step back but not really in a bad way: their previous record might have been too much of a change for the band and this feels much more architectural. See what I did there?)
Be sure to check them out on Facebook and listen to the song below.
[youtube https://www.youtube.com/watch?v=FHHJF2cUwyY]