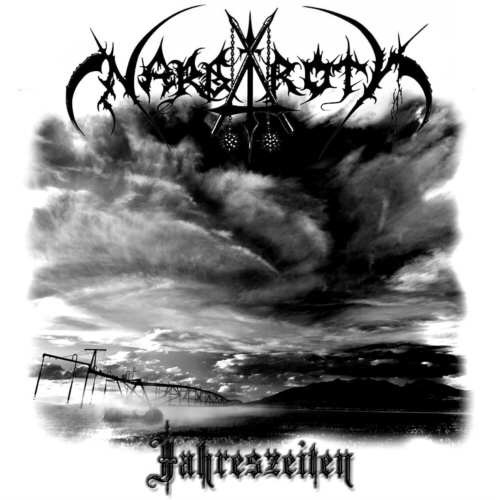 You don't have to be my number one stalker (you know who you are) to know that, at least nowadays, I mainly listen to metalcore and things that go into that general direction. However, I pride myself in the fact that I listen to a lot of different genres and that I can usually at least draw one aspect out of each one of them that keeps me interested. I actually plan on writing some more "special" reviews in the future, but I don't want to promise anything. Today, however, I want to write an unusual review about an album that some people regard as one of the more unusual ones out of that genre.
Before I get into that I'd like to preface it with a warning of sort: only about 75% of the following paragraphs will be about the actual music, the rest is sort of a personal reason as to why I love this record as much as I do. If you haven't deduced it by the title or the fancy picture yet: I'm going to be talking about Nargaroth's Jahreszeiten which was released in September 2009.
Those of you that are either fluent in German or have a vague knowledge of it will know that the title of the album stands for "seasons". The songs are named after the four seasons in chronological order: Frühling, Sommer, Herbst and Winter. The general concept being that each song is supposed to evoke certain feelings associated with these periods.
The first track fascinates me a lot since it's full of antagonisms in form of a spoken word in German by Ash, the artist formerly known as Kanwulf and the only member of Nargaroth. To delve into it too much wouldn't do it justice so I advise you to check it out for yourself, I for one can identify with more than one sentence from it. After Prolog, the album starts off for real with a very atypical riff that I remember captured my attention right off the bat when I first listened to it. Many people mockingly refer to it as a fun fair melody since it's a really cheery melody…which is exactly what it's supposed to be since it describes the joyful feeling that people generally get as spring begins to drive away the cold weather. The song then transgresses into a slightly more dramatic tone before ending with the same happy tune. If by this point you have not turned off the song you have either nothing else to do or you have grasped the concept of the whole thing. I hope it's the latter since if you keep that in mind throughout your listening session you will get a lot more out of the experience.
Instead of taking apart every single song I prefer to leave it up to you to make up your own mind. However I want to say a few things about the general production and lyrical content: the production is, for a black metal record, very clean which is one of the things that amaze me most. Because even though it's probably as far from the much acclaimed Black Metal ist Krieg as it can get in terms of "grittiness" it still manages to be aggressive and raw in the parts where it is supposed to be, mainly so on Winter. In terms of lyrics it's full of metaphors, as is usually the case on Nargaroth songs, which are related to the artists personal past and which, I must admit, I don't understand most of the time.
This concludes the main review and if you don't feel like reading a bit about my own reasons for liking this record you may stop here. But be sure to check out the song below and head to the official website where you can buy the CDs and get recent news. If however you want to continue, there's more below the video.
[youtube https://www.youtube.com/watch?v=RvfQqJeNF08]
In the same year as Jahreszeiten was released I had to be hospitalized in December due to a medical emergency, so to speak. It was only a brief stay of two nights and since I generally don't like hospitals as well as the visits there, I decided that I didn't want any visitors. On the first night I slept peacefully and rather early since I was to go into surgery the day after. I opted for local anesthesia as it was only going to be an incision of about four centimeters and the whole thing went by without any greater complications…well, apart from the fact that I caught a cold in the operating room. On top of the fact that I don't like hospitals very much I'm also not a fan of painkillers so most of the time whenever my IV drip was empty I didn't contact the nurse, nor did I ask for any pills or whatever. The cold however didn't care much about me being a bit special in that area so I was coughing and sneezing like no tomorrow; pain ensued. Yet, instead of pussying out I simply did the one reasonable thing: I listened to music. And I'll let you take a wild guess which album I listened to from 1AM to 4AM in a dark hospital room in a mild state of delirium of pain coupled with a slight high from the remaining effects of the anesthesia and IV drip. And this is the story behind that album. Maybe I'll do something along these lines in the future, if inspiration strikes.