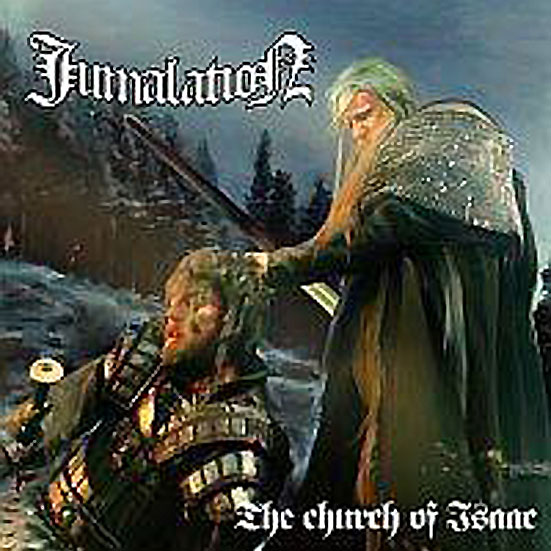 Finland seems to really have grown into a small Metal nation since the early 1990s. Mostly known for their Black Metal and Death Metal bands, here we now have the greatest Thrash Metal album released since 1992!! I kid you not!
Jumalation, sadly, seem to have been a one time thing though as most members are active in Força Macabra. The band was formed in 1997 and The Church of Isaac was recorded in 2006, released on CDR in 2011 and, finally, on vinyl in 2012.
I came across the band when I received a newsletter and Infernäl Mäjesty stuck out in the description. For those who don't know, Infernäl Mäjesty released one of the top 5 Thrash Metal albums ever. Of course I was skeptical at first, however Infernäl Mäjesty were not very unique to begin with. So I decided to give it a chance. Jumalation do sound like Infernäl Mäjesty, the main influence being Slayer though, which was also the case for Infernäl Mäjesty. I also hear a lot of Onslaught, Exodus, Destruction, Sepultura and Exumer.
The singer has the tendency to let his voice go up in the weirdest spots, kind of like Paul Baloff (Exodus) or Darren Travis from Sadus. Whenever he uses a hoarse growl or Hardcore shouts he reminds of a young Chuck Billy (Testament) or, at times, even of Roger Miret (Agnostic Front). His accent also reminds of Brazilian bands. Really weird but entertaining to have a singer with a split personality.
The church of Isaac is a thrash metal odyssey. Jumalation do not sound like a copy of a classic band, they sound like a follow up to a classic Thrash metal album. The music sounds familiar, yet the songs are new. Unlike most of the newer Thrash bands, they do not just steal familiar riffs to create generic songs. Jumalation created an album by sitting down and analyzing what Thrash is really about and wrote songs in the vein of certain classic Thrash albums, omitting the friendlier Bay Area sound for the more aggressive Teutonic and Canadian styles. They hit the right spot for me, this is how I love my Thrash!
This is a guitar album, riff upon riff upon riff. It is just amazing how many awesome riffs they come up with, especially on side B. The only notable exception being Tormentor, an 8 minute long mid-paced, doomy song. Here the band pretty much kept it simple riffwise, but have leads and solos allover the place. Sounds like the more progressive Sacrifice songs released on their Forward to Termination and Soldiers of Misfortune albums.
I can not recommend this album enough to any Thrash Metal freak!
Sadly most people will never get to listen to this masterpiece. I emailed the band asking for merchandise and everything is sold out. The CD version was in fact a CDR limited to 99 copies. The vinyl, which can still be bought on eBay, is limited to 500 only. So what are you waiting for??
Thrash or die!
[youtube https://www.youtube.com/watch?v=xfWNrhOPbRk]