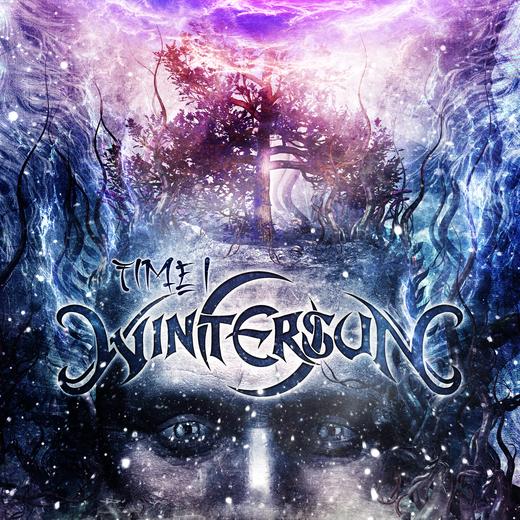 It's about time…or 10 steps to "overhype" a record. This could be the title for Wintersun's latest (sounds a little excessive if you take a closer look at their discography) record, if it was a book. But the fact that I don't read books shows us…well nothing.
Back to the facts: I totally love Wintersun's self-titled masterpiece from Anno 2004. It was epic, majestic, a perfect fusion of Symphony and Destruction. If you are a faithful reader of the yearly calendar, created by our Lord Jesus Christ, you will have noticed that Wintersun (the record) is now 8 years old and maybe you ask yourself: what happened? Well dear reader, in 90% of the cases I would tell you now that there were lots of lineup changes or the singer got pregnant or died because of Babushkaphobia…but no: the lineup is still the same, men can't get pregnant and everything is fine with dear little grand ma. The stumbling stone was technology: Jari Mäenpää's personal computer was simply too weak to handle the sheer epicness of the arrangements, choirs, riffs and other stuff you need to create a Wintersun-thing.
So after gathering some money for a new PC by playing gigs (true story bro), a massive but tiresome hypestorm on Facebook, and…oh yeah: 8 years, Wintersun had raised my expectations in Time I on "over9000"…and fail. The record goes hand in hand with Diablo 3, Chinese Democracy and Duke Nukem Forever. Usually I would admit now, that it's my proper mistake cause I had too high expectations in Time I, but it was Jari himself who put the bar onto a height he could never reach, by posting dozens of outtakes from reviews written by euphoric journalists, which had the luck to pre-listen the record before release date.
All right, to be fair, until now, this review is more like a speech against overdone self-advertising, so let's try to write some objective criticism. First of all, the length of the tracks is the worst choice the band could make. There are just too few climaxes and highlights on Land of Snow and Sorrow and Time (the song) to justify a length of about 10 Minutes. None of those two songs really finds a way to entertain me over the whole time.
So what about the other 3 Songs? Yes, Sons of Winter and Stars kicks asses; it is interesting and ambitious songwriting at its best, but it also ensures that I don't give a fart about the rest of the record. At last, When Time fades away and Darkness and Frost are two instrumental interludes which try to hide the sobering fact that Time I only has 3 real songs, and two of them are too weak in comparison with the amazing predecessor-record. Sorry Jari, but I didn't wait 8 years to get only 35 minutes of metal…
Funny Fact 1: The production (arrangements, sound-mix…) is so complex, that most of the listener will never hear all the details, Jari invested to create this audible heavyweight.
Funny Fact 2: Yes I know there will be a Time II in early 2013…but why? It just makes no sense to me…Only time can tell.
[youtube https://www.youtube.com/watch?v=alo7A0NLmxU]
This review was written by our freelancer Sven.