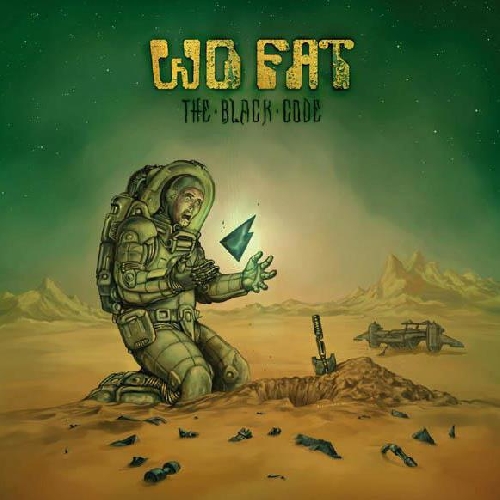 Wo who you might ask now? Well, to be honest, I've never heard of them before, although they already brought out 3 albums in the last years. The Black Code is number 4. And number 4 is so damn huge that its force and agility left the author a bit speechless in the beginning, and his language may still be too limited to describe what he's hearing here.
The year 2012 has nearly reached its end when one more stoner tsunami rolls over the world, making the Mayan prophecy again a bit more realistic. 5 songs, 46 minutes, no boredom, and more to discover than you ever have thought stoner rock could potentially give away. I'm damn serious; they even integrated some samba-like parts during this journey to a wasted red planet. The concept of The Black Code is about a space traveler landing on a strange planet. The sound is brachial, not just warm but burning, and it makes the whole story appear pretty secondary to be honest.
Coming back to the vast numbers of influences, the listener might sometimes be comfortably overwhelmed by what he's about to witness. From doomy parts to stoner riffs, from progressive jam battles to classic riffs, from jazz to samba (again, I'm not kidding!), from blues to metal, from psychedelic to tearing straight forward, and besides, this is so desert that the Chihuahua desert actually decided to change its name into Wo Fat. I know I'm getting too enthusiastic, but just calling them riff-masters is way too understated. They don't reinvent the stoner rock genre though, but they add a lot of different input to it.
The guitars and the rhythm section sound just the way they have to, totally stereotypically, which in fact is all they have to sound in a first place. It's all about the arrangements and the playfulness which can make stoner rock far more flexible. Some breaks are so badass that you wish to be right there at the rehearsal or the concert for that moment in order to totally go nuts.
When it comes to the vocals, the lead singer, although he's one of those typical stoner singers, might appear a bit too gently, which doesn't really have to be a big negative point; it probably is to be ascribed to the hugeness of Wo Fat's all-embracing sound. However, one might not be patient enough to endure the lengthened (blues or psychedelic) parts before the next riff starts off, but this is depending on the hearer's preferences.
This is something for rockers, dancers, rhythm lovers, head bangers, or whosoever, and certainly a must try for stoners.
Recommendations: songs 1 to 5.
[youtube https://www.youtube.com/watch?v=hboz_3m-LJg]