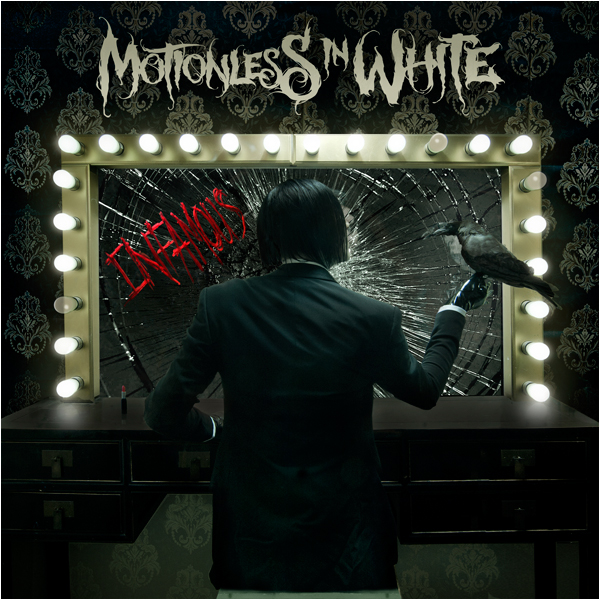 Imagine this: before there was the internet and YouTube, people who bought music had to rely solely on written reviews or just their gut feeling when buying a new record. If the album I'm reviewing today had come out back then, I'm sure that most buyers would have wondered if they were the victim of a mix-up. The reason for this is that Infamous, the second album, by Motionless In White sounds a lot different than its predecessor Creatures, which was released in 2010.
Let me elaborate: the band's first record was "typical" metalcore with a few minor influences from other genres, which added just what it needed to differentiate itself from the vast mass of competitors. Their newest endeavor however is heavily eclectic, in the way that it is influenced by a wide range of "older" (note: music released in the early 2000s) styles. I won't get into what bands it sounds like because I'm pretty sure you will recognize several of them yourselves, but I'll say that you can find a lot of industrial elements and some that are reminiscent of black metal.
On the instrumental front you can clearly distinguish between two tunings: the "classic" one and the "industrial" one; when you reach the third song you will know what I mean by this. This difference is something I thoroughly enjoy since it adds an extra bit of variation to the whole mix.
But what makes this album, for me, are the vocals: the singer was already quite experimental on the debut record but here it's literally an avalanche of singing styles that are thrown at you. On top of that you have, for the most part, great lyrics that are no longer about horror themed stuff but about more socio-critical topics. And to round it all off, you have three guest appearances by the singers of Vampires Everywhere, Soilwork and Bleeding Through: Michael Vampire, Bjorn Speed Strid and Brandan Schieppati, respectively.
I'm convinced that the rather radical change off direction might piss of some of the early fans but I for one greatly welcome the risk they took with this record. If you are not too stubborn when it comes to how you want to have your metalcore served, I strongly recommend that you give Infamous a spin, or two. You can find more information about the band on their Facebook page and you can get an impression of their new style through the track below. And last but not least, if you like what you hear be sure to head to Kulturfabrik on the 8th of February 2013, where Motionless In White will be supporting Asking Alexandria.
[youtube http://www.youtube.com/watch?v=mKyji3uXqOY]