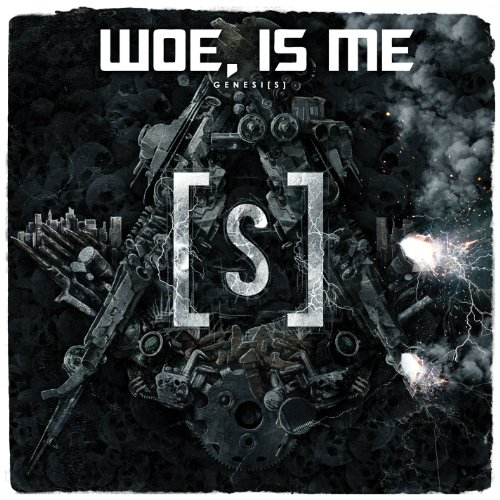 As you might have guessed from last week's review, the other band I was talking was Woe, Is Me. This week it's time for me to throw in my two cents on their new record Genesi[s] to see if their two new singers are worthy replacements and if the band has managed to put out a good record despite its many line-up changes. Enjoy!
After a short intro followed by a song, that feels like another intro, the record kicks off with A Story To Tell, a song about the difficulties the band has faced in the past two years and how they have overcome them. It's followed by a song which features Caleb Shomo, the singer of Attack Attack!, and deals with the struggles the band had to endure since their last record Number[s]…the next song pretty much has the same theme, and so does the rest of the eleven songs. This is the first negative thing that really stands out to me: the album focusses too much on revenge and the "we-made-it-anyways" theme is just annoying after a while.
Musically, it's not bad in any way but it just lacks that extra spice to make it stand out among your average metalcore record. The production is very modern and almost a bit too overproduced, even for me. The second thing that left a sour taste in my mouth was the fact that the same riff seems to be used all throughout the record and makes most of it sound like one giant breakdown; only in the chorus the songs start to shine because those actually have quite catchy melodies.
At this point I'd like to take back a word from the first paragraph: the new singers are not just mere replacements; they stand their ground very well and I'm going to go ahead and say that the clean vocals are a tick better than before. Apart from the earlier mentioned guest vocals there is also an appearance by Matty Mullins of Memphis May Fire.
All in all, these thirty-one minutes ended up being a bit of a let-down for me, if it weren't for the highly enjoyable clean vocals. However, I will not turn my back on Woe, Is Me but instead follow their progress further and hope that this record was just a slow new beginning for a bright future. You can check out the band's Facebook page for more info and listen to the song below.
[youtube http://www.youtube.com/watch?v=GttItGw-HVo]