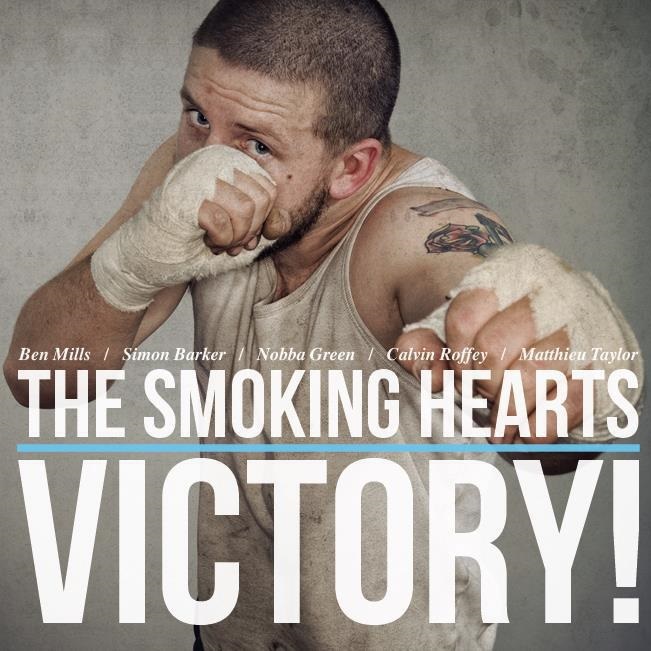 I'm back! After taking a two week writing break to party like no tomorrow and go to some cool gigs, I bring you The Smoking Hearts' debut album Victory! which was released in April. I first heard and met the guys back in 2011 when they opened for The Used, and I immediately dug their stage presence as well as their music. Two years later I read that they were the opener for Stone Sour, which got me quite excited since I hadn't really kept up with their evolution. To keep it short: it was a bad idea to have put this album off for so long because it kicks ass.
But let me elaborate: the UK-based band refers to themselves as rock'n'roll, but I'd say that hardcore with an occasional punk influence puts it more to the point. The intro track Off With Your Head just kicks you right in the face from start to finish, dictating the pace for the rest of the eleven tracks in total. On the second track, however, you get confronted with the more melodic instrumental aspect during the chorus, which is coupled with gang vocals, thus making the whole thing a lot less repetitive.
The instruments are flawlessly played and provide a driving backdrop which is groovy and heavy at the same time. There is nothing to whinge about when it comes to the production, either. The only thing that might be putting first-time listeners off are the partially raspy, for lack of a better word, vocals. While they do fit the ensemble quite well, I'd say that it's not everyone's cup of tea.
To sum things up, I'd say that while The Smoking Hearts' debut might not be a victory for the entire musical genre, it certainly is a big Victory! for them. I for one am looking forward to seeing them on stage in the, hopefully, near future and also, in due time, to their next release. You can find more information on the band's Facebook page and you can get a taste of the album below.
[youtube http://www.youtube.com/watch?v=oEOeAz8aAK4]