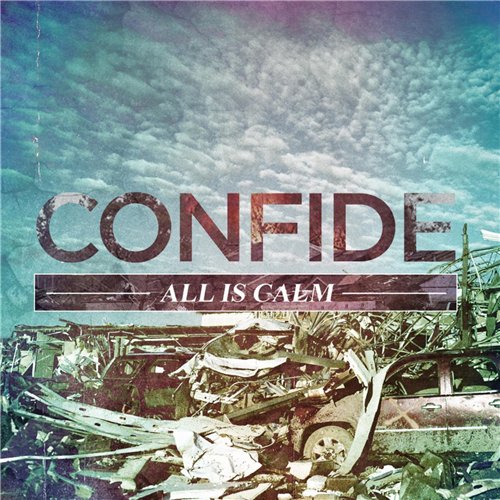 As I said last time: post-hardcore releases are swarming in these days! Our next one is Confide's third album All Is Calm, which was entirely funded through Kickstarter. Three years after disbanding in 2010, the band decided to give it another go due to enormous demand from their fan base. Since I quite enjoyed their first two records, I also pledged and got my digital copy two weeks before the physical one…a nice gesture.
Remember how I said last week that almost every band one-upped their previous work this year? Well…sadly I cannot say the same about the LA based band. Don't get me wrong though: the record is in no way bad, far from it actually, but it just lacks that little something. The music definitely feels like Confide, with its poignant mix of electronic elements into traditional instruments, but it simply follows the old formula too much for my taste. Also, this might just be me though, I have a hard time distinguishing the twelve songs since there is no real "oh yeah that song!" moment except for the song you can find at the end of this review.
The vocals have not varied much in the past years either, which is a good thing though since they always were and still are the driving force of the quintet. The only addition to the vocal arsenal are the, almost standard these days, "scratch vocals".
While it might seem to you that I do not like this record, that is not the case…I guess I was just too hyped and was expecting the next big thing. Objectively speaking it is an album worth giving a shot, especially if you've never heard the band before…since it is arguably their best output. For more information you can visit their Facebook page and to get a taste, you can listen to the above-mentioned song below.
[youtube http://www.youtube.com/watch?v=3chiacaK9BY]