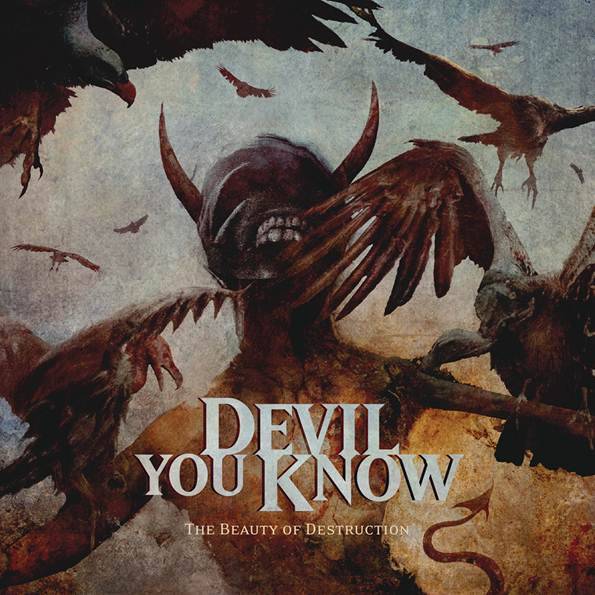 Ladies and gentlemen, it's time to welcome back one of the arguably best and most distinguishable metalcore voices out there after a break of two years! Following his departure from Killswitch Engage, Howard Jones took some time off from the spotlight but now he's back as the lead singer of the new band Devil You Know! Composed of members from All Shall Perish, Devolved and Bleeding Through, the quintet has just released their debut record The Beauty Of Destruction!
The band plays metalcore, very comparable to the sound of the bands the members come from, which covers some really heavy songs and some softer ones as well. The heavy songs of the twelve tracks all have serious headbanging potential and will satisfy all your needs with their fast-paced rhythms and crazy riffs. The slower ones all have that sing-along potential as well as earworm quality, making the record quite diverse.
The definite highlight throughout the forty-eight minutes is, without a doubt, the brilliant vocal performance. The screams are as powerful as ever, ranging from high-pitched screeches to deep growls, and the cleans are just as soulful as what you're used to. I'd even go as far as to say that it's Jones' best work to date, but his output has been constantly close to perfection over the years…so that's not saying much.
In closing, I'm going to say that if you've missed the incomparable voice of Mr. Jones, you will feel right at home with Devil You Know, and there is really no reason you shouldn't give this record a thorough listen. For those of you who are, for some unbeknownst to me reason, unfamiliar with him…what are you waiting for? Listen to the song below and visit the band's Facebook page so you can get started!
[youtube https://www.youtube.com/watch?v=J3qVww8s_a4]