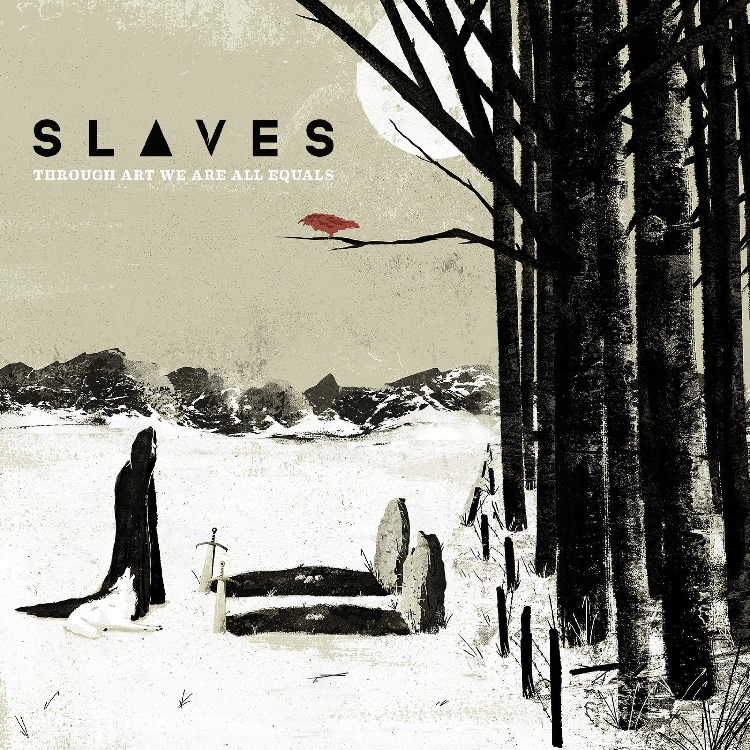 Today's review is about another very promising "newcomer", even though I don't really consider the quintet to be true newcomers since their lead singer is very well-known and him being famous definitely helped to put the band in the spotlight. However, I can't hold it against Slaves for making use of that initial boost, since the rest of the musicians is a very talented bunch and their debut album Through Art We Are All Equals proves that on the whole line!
The California-based post-hardcore formation adds an interesting layer to their sound by using seven-string guitars, which results in a vibe similar to djent but with a highly melodic and a bit less technical approach. It sounds a bit weird written out but it works extremely well when you listen to it. The stringed instruments in general have a, for lack of a better word, bouncy feel to them and I must admit that I'm not entirely sure if it's just because of the seven-strings or if the bass plays the same riffs and is prominent in the mix. All I know is that I absolutely adore the end result.
The drums pretty much cover every aspect, be it driving beats or intricate fills, and fit the ensemble perfectly, without ever diverting from the rest. To round it off, the production is truly massive but maybe too modern for some people out there. For me, this adds another plus point to these forty-two minutes though.
Earlier I said that the lead singer was well-known…that was a bit of an understatement, since Jonny Craig is probably one of the most notorious modern singers; many consider him a douchebag and he has been through some messed-up things, but from what I have read in the "press" this has changed. In the end, it doesn't really matter because there is one fact that is undeniable: this man's voice is one of the best ones in the entire genre, or even in the music scene in general. That's what ultimately counts for me and he proves it yet again on these eleven tracks.
But apparently his soulful vocals weren't yet enough to make everyone happy, so the band has recruited no less than four guest singers: Tyler Carter from Issues, Vic Fuentes from Pierce The Veil, Kyle Lucas and last but definitely not least Jonny's sister Natalie Craig. All the guest appearances truly enhance the respective songs they're on but especially the performance of the latter on The Hearts Of Our Young blew me away: talent apparently seems to run in the family and makes this song a true masterpiece.
To finish up here, I'm going to go out on a limb and say that TAWAAE is not only Jonny's strongest work, both lyrically and performance-wise, in possibly forever but also an amazing record in all other aspects. Basically yet another very strong contender for my top 5 of 2014, filled with so many quotable lyrics. Head to the band's Facebook page for more information and make sure to listen to the song below!
[youtube https://www.youtube.com/watch?v=Wuj8PZBWZeg]