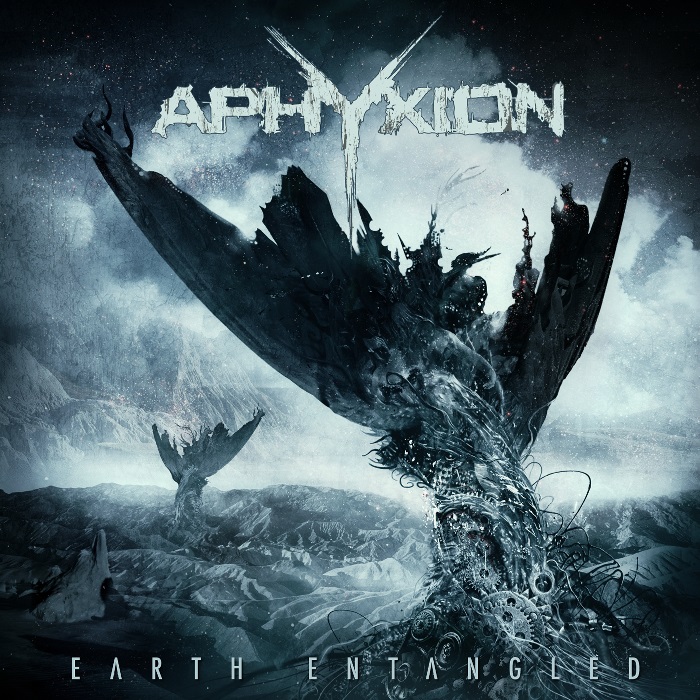 I must say that there are few things that are more gratifying to me than when a prediction, I made in one of my early reviews, becomes true. The reason I'm mentioning this is because back in 2012 when I wrote about today's band's second EP, I said that you should keep a close eye on their future evolution since it should be a promising one…turns out I was right. The Danish guys from Aphyxion are about to release their first full-length album, Earth Entangled, and the progress they've made is astonishing!
In case you've never heard of the quintet: they play a modern type of melodic death metal that gives away their Scandinavian roots immediately. This unique talent for groove seems to be an omnipresent quality in band's emerging from up north, and so is the case here as well. The first improvement to its predecessor can be noticed in the production quality: what sounded good before, sounds fucking massive now, both the drums and the guitars hammer you into the ground equally effectively.
The ten songs are generally speaking a lot more technical and the structures more intricate, but still retain a feeling of being from the same ensemble. In a way that is a strong selling point, because at no point is the listening experience disrupted by too much of a change of tone, but on the other hand it sometimes makes it harder to differentiate the individual songs, despite of every song being essentially different. It's kind of hard to explain, but personally even after more than ten listen-throughs I wasn't able to say which song I was listening to without peeking at the songlist.
The vocal performance remains nearly flawless and the evil growls fit perfectly into the instrumental backdrop. The vocal rhythmic as well as the lyrical content has, in my opinion, improved quite a bit and add a new layer to the band's music. Only minor gripe I have, is that the vocal variety seems to have diminished and the screeches I have praised on the EP, have almost completely disappeared. I doesn't really make the whole less interesting, but I thought they were a nice little addition in the past.
All in all, Aphyxion have managed to deliver a very strong forty-six minute debut album with Earth Entangled, that deserves a spot in every melodic death metal fan's library. Be sure to head to the band's Facebook page and give their music video below a click. And last but not least: be sure to catch them on their European tour in support of the record! One of the stops will be at Soul Kitchen in Luxembourg on the September 19th, so be sure to move your asses out there and bang those heads!
[youtube https://www.youtube.com/watch?v=ZCxLhZKCFIU]