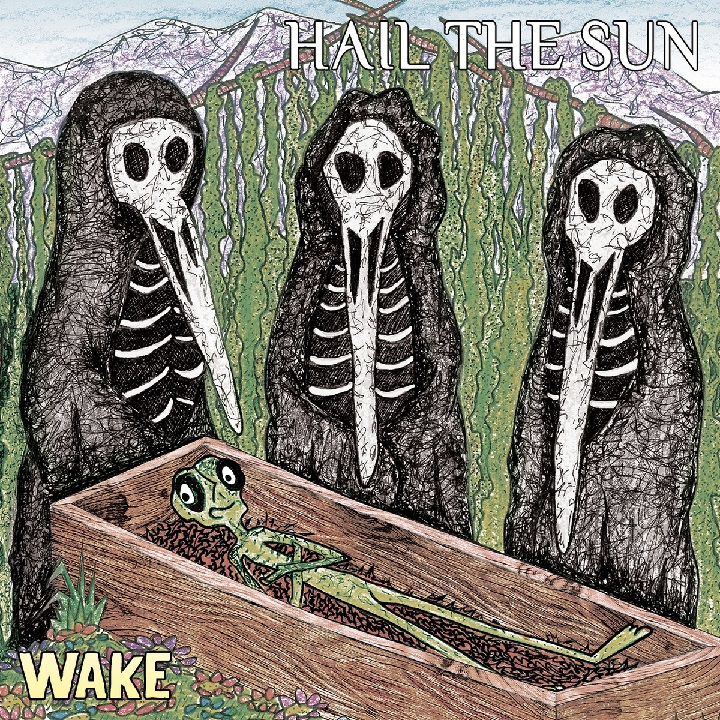 Holy shit! I don't know what kind of drugs most post-hardcore bands took this year, but they seem to work wonders. So far almost every single release of bigger bands has been a pure blast and I've discovered so many new quality bands that it's hard for me to catch a break…and I wouldn't want it any other way. Today's record of choice is the new release of Hail The Sun, called Wake which saw the light of day on September 23rd!
I first stumbled upon HTS on the very first day of the year, when I listened to Sianvar, a superband composed of members of bands that are signed to Blue Swan Records. Both bands share the same singer and therefore some similarities in their sound. However, the three other members of the California-based quartet are such proficient musicians with a fascinating range of ideas that both bands could not be any more different in their approach.
The twelve songs are a perfect mixture of calm, melancholic goodness and balls to the walls insanity, often borrowing elements, such as ultra-complex guitar parts and drum patterns, from mathcore. Their songwriting in general is rivaled by few, but their feel for going over the top is so phenomenal that Wake could well be a stand-alone instrumental record and still hold a high rank in the top ten of the genre. Seldom has a band managed to make transitions from neck-breaking mosh to totally idyllic parts in such a genuine way.
But, luckily, the musicians are fronted by an extremely diverse and talented singer who, seemingly effortlessly, covers every range of singing techniques that are common in post-hardcore. His, quite high-pitched, clean vocals are flawless and are always employed in the right moments during the fifty-two minutes, whereas his screams are energetic and I'm convinced that if they fail to animate you, there is something seriously wrong with your ears and you should consult an otologist. Extra kudos for the guy since he's also responsible for the drumming, a feat that is quite remarkable to perform live. An extra touch are the screams by the guitarist on the song Cosmic Narcissism, which I would have loved to hear more often…but then again, their rarity makes them extra delicious to my ears.
As if all of the above was not enough to make it a super strong contender in my album of the year category, the lyrics are captivating and intelligently written with way more than a few memorable lines. There is simply no downside I can find to Wake, and I strongly urge you to click on the Bandcamp below, listen to the entire record and ideally buy it because these dudes deserve every cent that you throw at them. You can find out more about them on their Facebook page and keep your eyes peeled for the next possibly big release from their label mates Stolas, another band that is part of the above-mentioned superband.