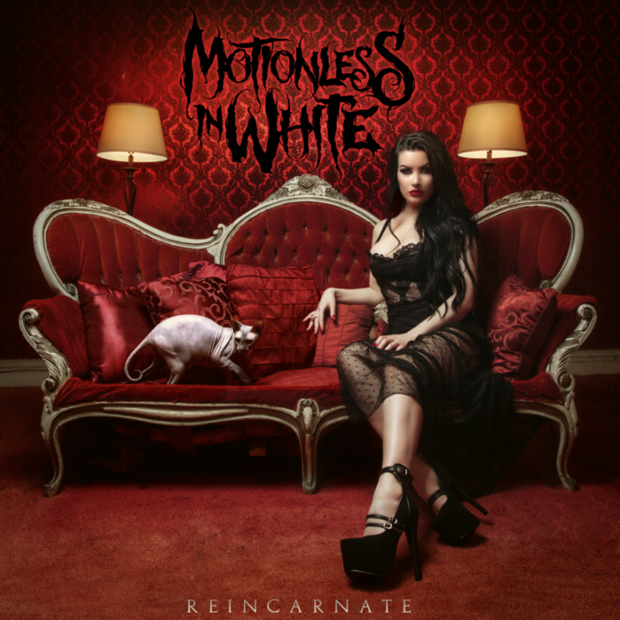 When I reviewed today's band's previous record I mentioned that many fans would probably be outraged by the new direction Motionless In White took…and I was absolutely right. The amount of bitching I read on the internet was mind-blowing, and two years later it multiplied when they announced that their third record, Reincarnate, was to be released on September 15th…to my great delight.
Especially when the guys released the first single, I knew that they had ignored all the bitching from their "fans" and took the route they wanted to, which was mainly sticking to their new-found sound: electronic-industrial-black-metal-core. Yeah, I totally just made that genre up, but it describes the band's sound so well that I don't even feel bad about it. The Pennsylvanians have even further incorporated the above-mentioned styles into one delicious mix of a one-of-a-kind sound.
All the elements I mentioned in my Infamous review are still ever-so-present on these thirteen songs: two different instrument "tunings", occasional breakdowns, diverse riffs, complex drum patterns and almost no repetition whatsoever. Even though I just mentioned it a couple of sentences ago, I have to repeat that the fact that the quintet stuck to this, admittedly, weird mix of musical styles makes them stand out from the vast amount of bands that are trying to get somewhere.
Two years later, the vocal repertoire on Reincarnate is just as crazy as before, with the addition of even more vocal techniques and effects. The variety in the singing gives each song its distinctive feel and guarantees an all-around enjoyable listening experience. Fun little fact: I talked to the singer a couple of years back when they played here in Luxembourg, and I can honestly say that I've rarely met someone as self-critical as him. The guy's a true perfectionist and it can absolutely be felt during these fifty-six minutes. On top of that, MIW have gotten help from four guest vocalists: Dani Filth of Cradle Of Filth, Maria Brink of In This Moment, Dessa Poljak of Silencio and Tim Skold!
In closing, what can I say? Is Reincarnate a record that will please everyone? Sadly, no…it's just too much "all over the place" for some. But for those that actually dive into the music and keep an open mind, I can honestly promise that they will have a pure blast. I, for one, did! Head on over to the band's Facebook page and give the video below a spin to get an idea!
[youtube https://www.youtube.com/watch?v=CVQC3bx_AXs]