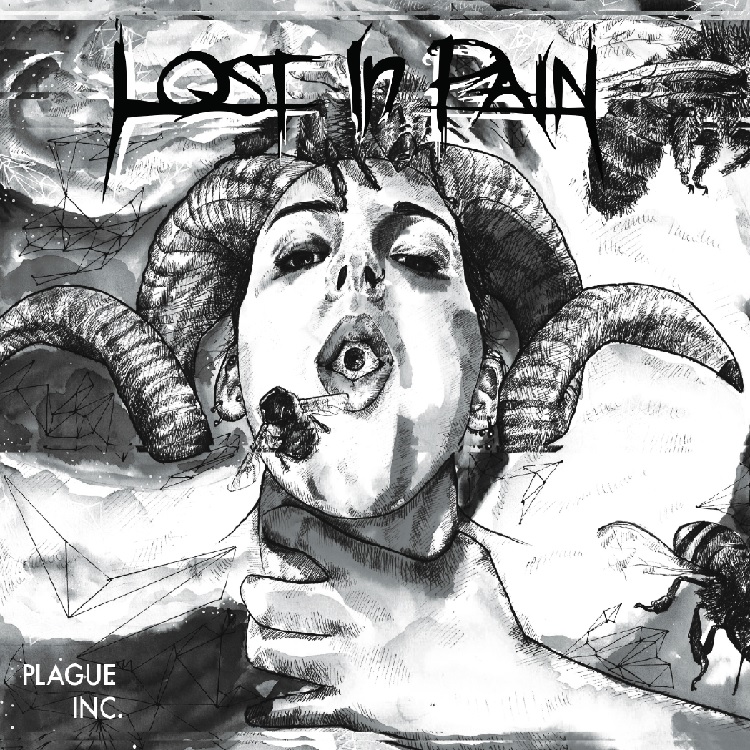 If memory serves, I went to a private birthday party at a pub about four years ago, where I saw a band of youngsters cover some Metallica songs and, unless I'm mistaken, play some of their own songs and my initial reaction was: damn they're good for their age. It took me a while to realize that I just witnessed my first Lost In Pain gig but I was severely impressed, a feeling that continued to grow every time I saw them play live. On January 23rd they're releasing their second full-length, Plague Inc., and I was fortunate enough to get early access, so here's my five cents!
As mentioned above, the Luxembourgish quartet's main inspiration is quite clear and a well-known fact that has been talked about many times, so there's no use beating a dead horse. What is worth mentioning, however, is the evolution that their sound has gone through in the past three years, since the release of their self-titled debut album. Time has had a very positive effect on the band members and their, already back then, respectable skills: the songwriting is way more structured, the riffs more interesting, the drums more precise and the vocals generally more enjoyable.
The ten songs showcase very versatile riffing, that will satisfy every thrash metal fan's hunger and inspire many headbang outbursts, while at the same time bringing a very melodic aspect to the table. Which is exactly what I was referring to earlier: Lost In Pain knows how to write choruses that will be stuck in your head after the first listen; a fact that is a definite forte of their music. The technical prowess of the string department is also a factor that shouldn't remain unmentioned, since there is a vast showcasing of crazy fast solos and many tasty licks, which spices things up quite nicely.
The adequate backdrop is provided by diverse drumming that never tries to steal the show with unnecessary parts. Don't get me wrong though, it's not boring or monotonous, but simple enough to not take away the focus from the ensemble; a prime example of a well-executed piece of wisdom: less is often more!
All throughout the forty-six minutes, the singer delivers a powerful performance, that is mostly kept in a style akin to that of the frontman of a certain Bay Area band. To be fair, the singing is not just a cheap imitation, but rather used as a basis to add new elements and create even more melodic layers on the tracks, in the form of melodic screams, such as on Addiction, one of my favorites. I personally dig the vocals a lot, and I must admit that I can't think of any other local vocalist that goes into a similar direction, which makes them even more interesting to me.
All in all, Plague Inc. is a second album like it's supposed to be: an evolution of the previous one, while still keeping the initial idea! I can, without a moment's hesitation, say that Lost In Pain have set a strong standard for 2015 when it comes to the Luxembourgish music scene and, in the same vein, that you should keep an eye on them in the future! In the meanwhile, you can visit their Facebook page and check out the video below. If you like what you hear, be sure to head to Rockhal this Friday, for the release show!
[youtube https://www.youtube.com/watch?v=ngZwMR4pMlQ]