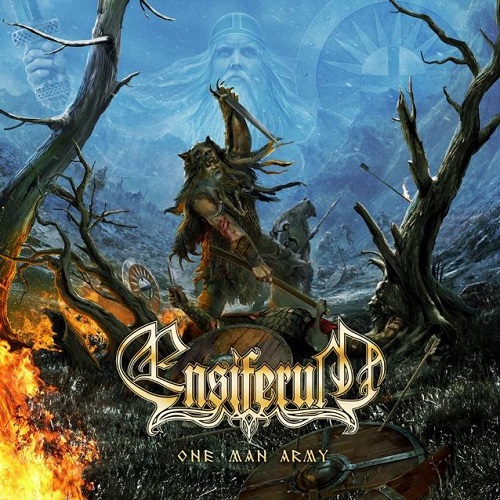 I first saw Ensiferum when they did a support gig for Children Of Bodom on the 12th of May 2011 in Luxembourg's Rockhal and I was enthralled right from the start. Never before had I seen a support act, that was so full of infectious energy. They blew me away as soon as they played their first notes. In the end I liked Ensiferum thousand times more than the actual headliner of that evening. After that show I immediately got their whole discography. Of course, a few months ago, I was quite stoked when I learned that one of my favorite Finnish bands would soon come up with a new record.
Blown away – that's also the keyword for Ensiferum's new album, called One Man Army. And let me tell you: You ARE going to get blown away throughout the eleven songs on this record. After a slightly mystical visionary intro, the Fins set the levelling rod for the album with the track Axe Of Judgement, which, with its frenetic double bass and fast monumental guitar melodies, rushes through the air in order to split the next best hostile skull. If you don't get blown away by this track, then you're either deaf or completely insusceptible to music.
That being said, that's the manner in which the next tracks of this epic album will continue. You can find other brilliant examples of this raging riffing and drumming in the title track or in the surprisingly different, yet awesome song Two Of Spades. However, in between all the frenzy, the guys always give you a chance to rest and have a good mead with atmospheric, folk infused interludes, like Burden Of The Fallen or with mid-tempo tracks like Warrior Without A War. Moreover there are also one or the other parts that will probably make you grin.
On One Man Army, Ensiferum does what the band does best: write songs with wonderful melodies, that are accompanied by beautiful harmonies, a majestic choir and / or by synthesizer accents. These also take their part in the "blow you away" effect. Sometimes they can actually make you feel the northern winds on your skin and make you smell the blood soaked sea as you tag along with your friends in a "Siegreicher Marsch". Oh wait… no, that was another band…
Ensiferum is categorized as a folk infused melodic death metal band. Which is 100% accurate. However, I'd say that the term epic metal would fit perfectly as well, because if you had to describe the new Ensiferum album in one word it would be: epic!
[youtube https://www.youtube.com/watch?v=uv0CRm94ObE]
This review was written by our Freelancer David from The Metal Diplomat!