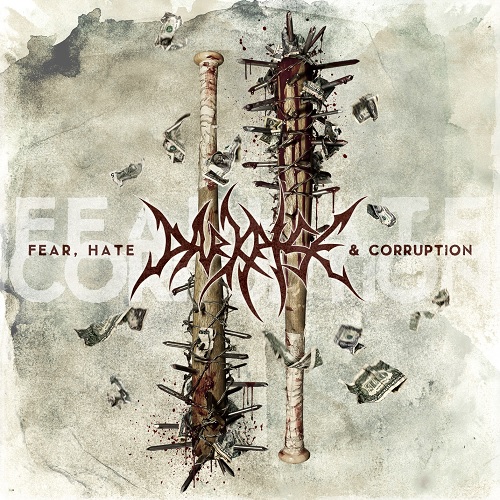 My musical journey has been a long one and I've undergone quite a few changes of taste but I believe that I found my "calling" in the form of post-hardcore. Despite that, I love going back to my previous loves every now and then. Today is one of those days. DarkRise is a fairly unknown Swiss death metal band that is about to release a new album entitled Fear, Hate & Corruption, which I've been jamming on repeat for a couple of weeks now…so logically I want to share my impressions.
At first glance the quintet plays fairly "classic" death metal, but the more time you invest in listening to them, the more you are confronted with technical aspects and the ever-so-present groove that flow through the ten songs. Don't get me wrong: there are far too many blast beats and double bass assaults to even start counting them, but at no point does it devolve into mindless hammering. Ferocious fast-paced riffs go hand in hand with intricate solos and playful licks, giving your ears plenty of opportunities to discover the record a bit further on every playthrough.
The vocalist delivers a fairly diverse performance, covering all the different styles that are generally present in the genre, without any problems. In terms of lyrics, I'll let you take a wild guess by looking at the title of the album…nothing new, but it doesn't bother me personally.
To be honest, I wasn't too convinced by the sound of FH&C, but at the time of writing this, I wonder what kind of substances I must have been on…because everything is exactly how it's supposed to be: the guitars spit fire, the bass is earth-shattering, the drums make your bladder lose water and the vocals will block the wind to your lungs. Add in a healthy dose of lo-…hate, I mean, and in unison they form Captain Headbang!
All in all, DarkRise certainly don't reinvent the wheel at any point during these forty-six minutes…but they do deliver a record worthy of your attention! So be sure to listen to the song below and do the usual social media routine on their Facebook page! Fear, Hate & Corruption is out on March 19th!
[youtube https://www.youtube.com/watch?v=bMREWxL9a_A]