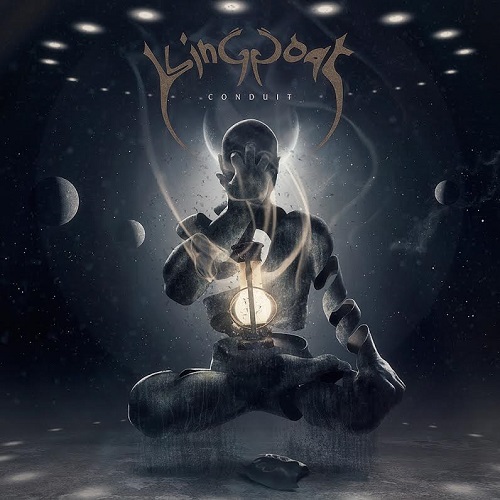 One of the biggest surprises in 2014 for me was a relatively new band from Brighton, that played a genre that I was never really familiar with, and still can't claim to be, who simply blew me away with its atmospheric doom metal. The band in question is called King Goat and the quintet is about the release their first full-length entitled Conduit on March 25th, so naturally I'll give you my two cents on it beforehand!
Essentially, the guys have stayed true to their genre but the two years in between the self-titled EP and this have definitely managed to make the creative juices flow in abundance. Everything sounds more mature and elaborate, and especially the riffs deliver a sense of grandeur that aid in creating a dense atmosphere throughout the forty-two minutes that can't even be compared to the predecessor.
The one thing that is similar to the previous effort, is the build-up phase during the first two songs before exploding on the third one and maintaining it on the last two. While track one, Flight Of The Deviants, and two, Feral King, are sung completely in clean vocals and have a somewhat heavy-metalesque touch, the title track goes into overdrive with a crushing main riff and growls and screams left, right and center. It is about here where I get the chills while listening to these five tracks…and they don't disappear until the end.
The fact that this middle track also features additional (female) vocals during the "chorus" just makes it even tastier in my opinion, because it creates even more depth. Not that the singer needs it, because he definitely shines on his own at every moment of the listening experience. Every line, no matter the singing style, hits just where it's supposed to hit and combined with the fairly epic lyrics, it might not be the sing-along record of the year, but it's absolutely a blast to enjoy.
To sum things up: THIS is how you make a follow-up to an EP that has received wide praise. You keep the good, you improve the not so good, and you put your heart and soul into it! Conduit does all that and then some…so be sure to head over to King Goat's Facebook page and listen to the song below, even though it should ideally be enjoyed along with the rest of the record, to get your metalhorns ready for the release tour in the UK!
[youtube https://www.youtube.com/watch?v=mHBrg2flF8A]