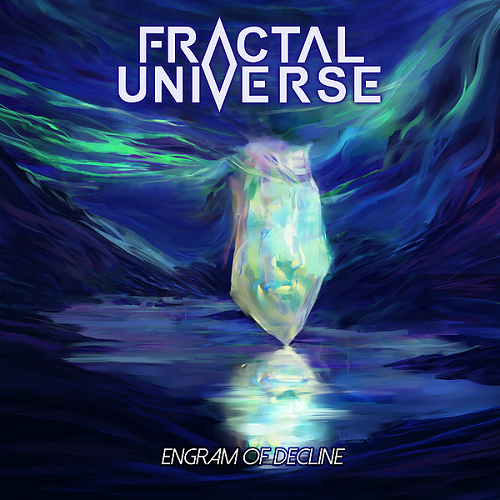 As a reviewer, there are few things as gratifying as seeing a band evolve in a positive way, even more so when you pointed out their weaknesses and predicted great potential in their future while talking about their debut release. Such is the case today, because I'm proud to write about Fractal Universe's new full length, Engram Of Decline, which manages to surpass the band's preceding EP, which was already remarkable, by light years.
In 2015, the quartet had laid a solid foundation with Boundaries Of Reality, which was a ride of finest technical death metal, but there were several minor flaws, especially in the production department: it just didn't sound as good as it could. Fast forward two years, and you are treated to a sound so crisp that it pierces right through your eardrums and into your brain! But that wasn't enough for the Frenchmen, since they also stepped up their songwriting game, as well as their musicianship, to a whole new level. The ten songs are so well composed, giving certain passages an almost symphonic, albeit heavy, quality and not a single transition ever feels awkward.
The drums are so tight and accurate that I would not believe that it's not a drum computer, if I hadn't seen them play live in the past. The interplay between them and the bass guitar is a real treat, especially in the groovier parts of the songs. Add to that the intricacy and precision of the two other string heroes, and you've got a true work of art. It's also worth noting that the band has taken a daringly experimental step with the inclusion of a saxophone part on the song Backworldsmen, which on top of that is also sung in German!
Speaking of singing: the vocals have also improved both in execution and recording! Possibly due to the increased production value, every line sounds much better enunciated and every scream is another bone-chilling exclamation that drives the lyrics home with force.
While listening to Engram Of Decline for the first few times I couldn't help but crack a smile, simply because it was so reminiscent of a technical death metal record I absolutely adore: Obscura's Cosmogenesis! And if that album was an inspiration for the Fractal Universe guys, I tip my hat to them, because they managed to capture its essence perfectly! You should be the judge yourself, and you can do so on Friday, April 14th, when the record is being released. In the meantime you can whet your appetite by listening to the single below and checking out the band on Facebook.