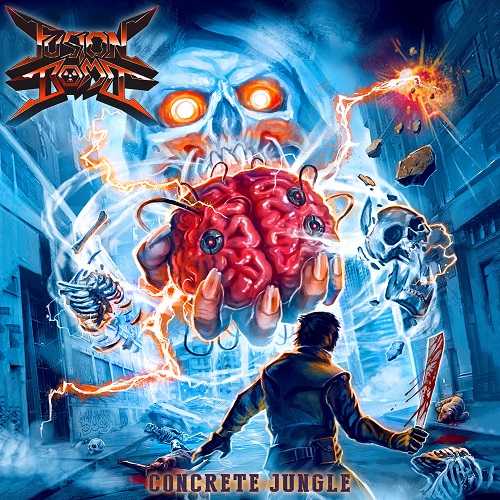 As a reviewer, one of the greatest pleasures is following a band's journey and having your predictions confirmed. A bit more than two years ago, I reviewed Fusion Bomb's debut release and while it had its flaws, I expressed high hopes for their future and boy was I right! I'll pretty much spoil the end at this point already, but: their new release Concrete Jungle is a massive improvement on an already solid base. Let me tell you why I think that's the case!
Everything I liked about the predecessor can still be found here, just cranked to eleven: the guitars come at you with pure ferocity and the, dare I say, catchier riffs bite into you until they have you banging that head like no tomorrow. The drums have also improved in terms of technicality and groove, along with the clearly audible bass guitar they lay down the perfect groundwork to create a perfect…wait for it…fusion of instruments.
The ten songs, which include an Excel cover, have also vastly improved in terms of song-writing: while a majority of the songs is still mostly centred around a single riff (per song) I feel like there is enough variation and different parts thrown in at just the right moment, to avoid repetition. And that, to me, is what makes a good song: just the right amount of repetition so that it will drill itself into your skull after one listen, but never to the point of boredom.
I especially have to praise the vocals, since not only have they improved in terms of enunciation but also in diversity and overall execution. I mean, the record starts off with a scream that would make Tom Araya jealous, what more do I have to say to sell these thirty-seven minutes? Maybe that the quartet has managed to come up with one of the catchiest choruses that I've heard in a while on their song Slam Tornado, which you can listen to below. Or that the entire thing was mastered by Zeuss, and therefore sounds like a tank?
Whatever floats your boat, be sure to give Concrete Jungle a listen when it releases on January 26th and come get your mosh on at Rockhal that same day at the release party. In the meantime, had to Fusion Bomb's Facebook page for more information and drink beer, be free!