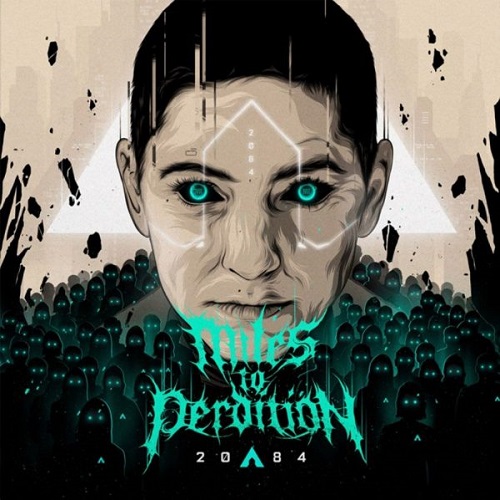 A brief glance at the world we live in and the society that populates it these days can make you shudder to think where it will be headed in the decades to come. Today's review is about a band that took a look at a classic when it comes to dystopian future, gave it a more modern coat of paint and composed music to go with it. Miles To Perdition are going to release their brand new album 2084 this Friday and I want to try to explain to you why I enjoyed it as much as I did!
While the quintet had already undergone a fairly big style change with their previous record, Blasphemous Rhapsody, this time around they completely dropped the metalcore elements and went straight melodic death metal. An evolution strongly welcome, especially when it is executed as flawlessly as with this new outing.
Fans of the Gothenburg style will feel right at home when the first song starts blasting after the iconic speech of George Orwell, which is set to atmospheric synthesizers, since the first riff is already one that will nestle yourself deep into your ear canals. Sheer despair and hopelessness are omnipresent and coupled with just the right amount of repetition in the string department, they will keep sinking into your very soul. I would say that the leitmotif of the eight songs is, at least on the guitars, that less is more: the different riffs sound simpler but to me they work much better than on the predecessor, since they serve the song as a whole more.
The bass on the other hand is clearly audible at all times and I really like the tone they chose for it, since it truly slams right in your face with its raspiness. The drums, and actually the entire production, have a very organic and raw feel to them, which accentuates the thematic and guarantees a truly immersive listening experience.
The icing on top of this black and bitter tasting cake, and I mean that as a compliment, are the vocals, which I already liked a lot in the past but have also been elevated to a different level. The vocalist truly knows how to sell the disgust that this record is supposed to convey, since he truly gives it his all during these forty-one minutes. I also particularly enjoyed the lyrics, since they pick up some of the thematic from the original inspiration and transpose them into today's world but also feature some memorable lines.
Another thing I can't leave unmentioned is the fact that they decided to put an almost thirteen minute song on here with the closer, Doom. I mean…when I first saw the track length I was a bit worried, but I have to say that they pulled it off: I was never once bored with it, even after my twentieth listen. While it does rely heavily on returning elements, in every department, it does so splendidly and manages to entertain all throughout.
All in all, Miles To Perdition have added a very strong new notch in their belt with 2084, and I truly hope that they will get the chance to bring it to as many people as possible. If you want to get an idea of what Swedish melodic death metal from Luxembourg sounds like, be sure to check out the video below and head to the band's Facebook page to stay up-to-date. Also, before I leave with one of my favorite lyrical passages from the record, consider going to their release show at the Kulturfabrik this Friday, January 31st.
Choose life, choose the right for a fucking opinion.