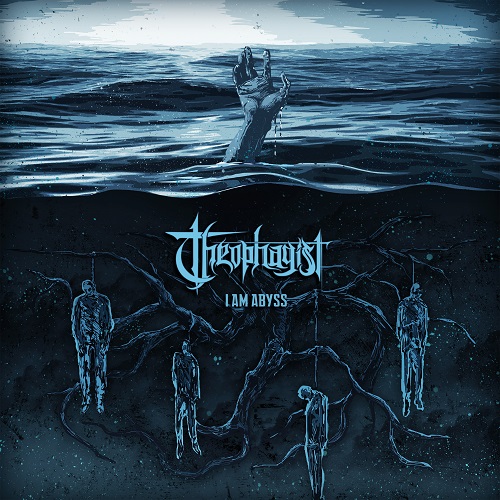 The older local metalheads among you might remember a little band called Elitist Death Squad, which was active about a decade ago and then faded into obscurity. Four years ago parts of that group reformed under a new name and a somewhat different sound…it was the birth of Theophagist! Fast forward to today, where the quintet has played many shows and finally recorded its debut album, titled I Am Abyss, which is due to be released this Saturday, February 22nd! Of course, I had to get my hands on this baby ahead of time and try to make you drool over what's to hit your ears soon.
I find the band's sound quite interesting, simply by the mere fact that they're generally-speaking a modern death metal band, but they have that little je ne sais quoi that gives me strong old school vibes. So, let's just pretend that they reside in their own genre: eclectic modern death metal! I think that if I had to somehow describe it in more detail, I'd say that the song structures are very modern, with "slamming" parts, but the riffs for example are very traditional. It creates a very diverse sonic experience, that should satisfy all kinds of listeners, old and young, if they actually give the mixture a chance.
Throughout the ten songs you are treated to a fairly relentless barrage of neck-breaking guitar parts that range from fast riffing to headbang-inducing melodies. The bass usually complements the guitar and adds another layer of force to the string department. The guitar solos are always used at just the right times to spice the whole affair up whenever you just about think that the song has peaked.
In the skin-beating and metal-hitting realm, you are confronted by a tank that plows through blast-beats and double bass parts with no mercy whatsoever. Yet, precision is never missing either, and every little cymbal nuance and drum-fill rolls effortlessly off the sticks at all times.
While staying in the instrumental department, by far the track that stands out the most to me, however, is weirdly enough the interlude titled Awakening The… It is a two and a half minute cello piece that has a bone-chilling quality to it and it's almost a shame that it's incorporated into the actual song it precedes or, for that matter, on more songs. But, on the other hand it might have been a wise choice to avoid it from becoming a gimmick rather than the head-turner it is now.
It would be a very incomplete review if I didn't mention the men with the pipes. Vocal duties are shared between one of the guitarists and a stand-alone singer, with the former doing mostly higher pitched screeches and the latter providing all the rest, from screams to the lowest of the low growls you can imagine. It is no secret that I am a huge sucker for dual vocals and, although they're mostly used for choruses during these forty-three minutes, they definitely added a lot of enjoyment for me personally.
The one aspect where the band might either lose your interest…or capture it completely, is the lyrics. Recipe For Human Cake is, to me, a brilliantly provocative track (and tasty, too) but it might not be everyone's cup of tea.
All in all, what we have here is yet another strong Luxembourgish debut album that, I am sure, will please more than one pair of ears. So, please, do yourself a favor and give I Am Abyss a listen when it's out and if you want to keep up with Theophagist head over to their Facebook page. Last but not least, check out the song below and if you like what you hear, you can attend the band's release show this Saturday at Mix'n'Kawa in Belval!