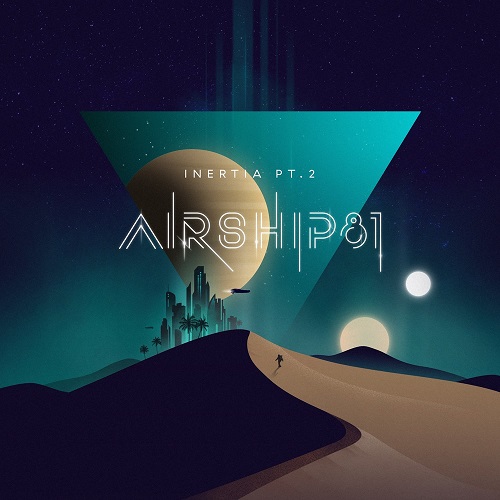 Routine. I might have mentioned in the past that I'm a huge sucker for it and I can't imagine my daily life without it, since it works for me and it keeps me mentally sane. However, after more than three years (I checked) of only reviewing metal and rock releases, I think a little breath of fresh air will definitely be welcome! I actually picked something that many of you, my constant readers, probably wouldn't choose by yourselves, in order to hopefully introduce you to a new taste. If the cover hasn't given it away yet, I'm talking about Airship81 who are about to release their third EP, titled Inertia Pt. 2.
Minor correction: they are actually just one person. Airship81 is the passion solo-project of Paul Bradshaw who you might know from local bands, such as La Fa Connected and Mount Stealth, and the aural space he chose to dabble around in this time is of the electronic kind.
The five songs are very synth-driven and remind me personally of 80s video game soundtracks, but with a fresh coat of paint. Yet the vibe is much more, dare I say, partially melancholic at times, while never leaning too far into the sad part of it. Especially the closing track conveys that feeling particularly well. On the other hand the opener is the exact opposite and serves as the perfect foundation for the journey ahead.
I am not a huge fan of comparisons because they can sometimes be misunderstood but in this case I'll make an exception: if I had to make one, the most accurate and recent comparison would be the wonderful soundtrack of Blade Runner 2049. Because in both cases, the composers knew what to keep of the old and what to add of the new, to make it a fresh piece of art.
The only thing that I dislike about Inertia Pt. 2 is at the same time also the thing I like the most: its duration. At slightly more than seventeen minutes the expedition is over quite quickly and it leaves you hungry for more. However, first of all the EP is well-rounded and gives you a complete experience and secondly, and most importantly, you can immediately push play again.
Inertia Pt. 2 is dropping on June 4th and you'll be able to dive into the beautiful sonic landscapes yourself. In the meantime, you can follow Airship81 on Facebook!