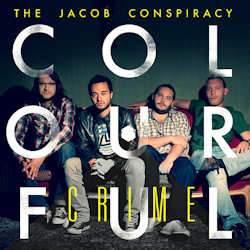 I'm pretty sure that the boys from the Jacob Conspiracy don't want to hear it anymore (maybe they do, I actually haven't talked to them), but let's call a spade a spade: this album sounds like a Foo Fighters album. Is that a bad thing? Not at all!
However, there are two differences between the Foos and The Jacob Conspiracy: I'm quite convinced that Ken Brandenburger is a better singer than Dave Grohl (brownnosing no.1) and that in contrast to most Foo albums this one seems to grow stronger as time goes by (brownnosing no.2). Well then, let's fill the Josy Barthel stadium! Alright, back to earth, not even the national football team does it. The opening song already gives the direction: sound, refreshing and often catchy rock and pop-rock.
The more I've listened to this album, the more I also had the feeling that Danko Jones had his finger in the pie. My personal highlight certainly is track number 4, Desire. A very bright and cheerful song that could have been your soundtrack of the summer if this had been released a bit earlier this year.
At the end of Colourful Crime you can find a handsome ballad and two entertaining acoustic songs. It was a good idea to put those in the end because the rocking flow of the main part of the album won't be disturbed and the rock'n'roll train can roll on. Emily, the ballad, is perfectly suitable for radio, and guess what, I ejected the CD from my car radio yesterday during Emily to hear that she was played on Eldoradio the very same moment.
Negative points (to get the brown nose a bit cleaned off): the album surely has no downs, but one reason for this is a certain monotony in the refrains, especially during the middle of the album. The other thing is, and that surely is very subjective, that the sound often appears way too clean, too "gracious" in terms of rock'n'roll. I am nevertheless pretty sure that those songs are made to be performed live and that there will be way more dirty energy in the air. Note to myself: get to see them live a.s.a.p.!
At the end of the day, this is a well done rock album from a Luxembourgish band, that surely hasn't reinvented the wheel, but that still has potential to do some more steps. Thumbs up.
Recommendations: Desire, Emily, Turn the Page (Acoustic).