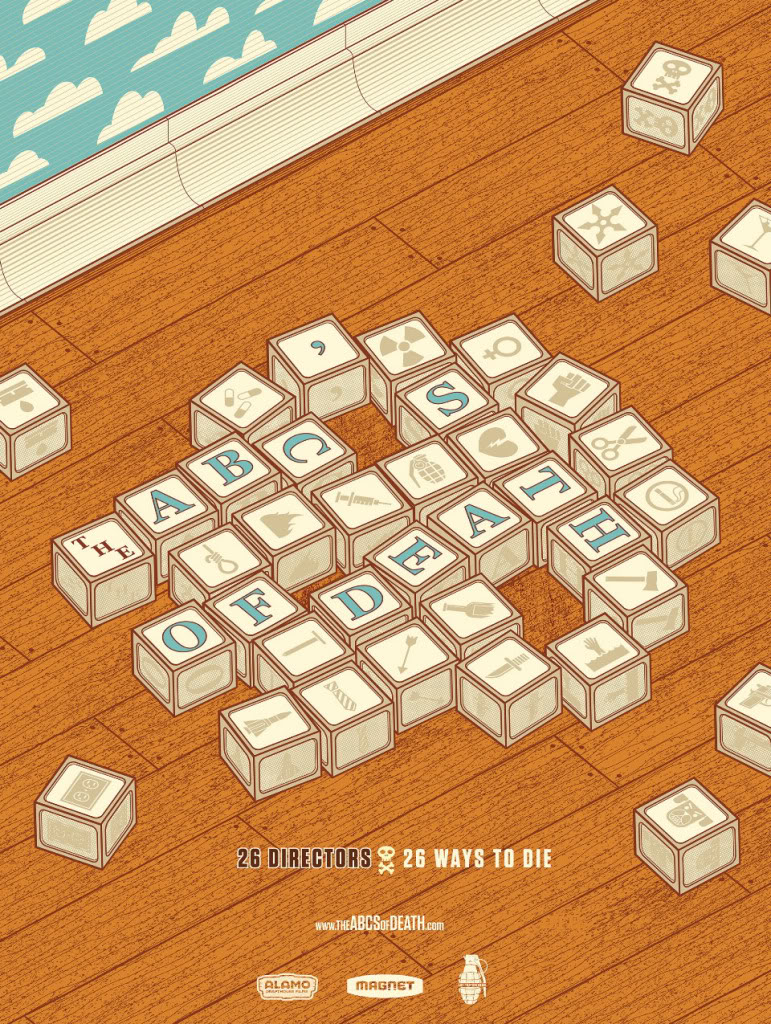 It was yesterday when the 26th director for the 2012 Feature film THE ABC's OF DEATH was chosen. THE ABC's OF DEATH is a project inspired by Angela Banner's early educational books where a story was told by learning the alphabet. You maybe know that these early books often, just like fairy tales, use punishement, fear, psycological and physiological violence in order to teach the youth. ANT and Tim, the team behind the project, tell us on their website that this idea of fear and punishment is in some way a component of THE ABC's OF DEATH. On the other hand they want to offer a platform for uprising horror directors (among some established names) to show their talent to the world and the movie industry.
So 25 out of 26 directors were known. There are inter alia:  Jason Eisner (Hobo with a shotgun), Xavier Gens (Frontiers), Noboru Iguchi (RoboGeisha, The Machine Girl), Yoshihiro Nishimura (Tokyo Gore Police), Srdjan Spasojevic (A Serbian Film), Yûdai Yamaguchi (Battlefield Baseball). This is an epic cast of modern splatte'n'gore movie directors (especially the Asian fraction is pure awesomness!). Now the fans had to vote for 10 movies (on youtube and/or vimeo) which made it to the final round from where the 25 directors of the sick bastard cast (a special hi to Mr. Spasojevic ;)) had to chose 1 winner.
The short movie title should start with a "T" and the story should be inspired by the chosen word. Nearly everything was allowed and creativity just as the "Holy Shit" factor played a very important role. I don't want to keep you in suspense anymore. It is Lee Hardcastle's "T is for Toilet" who made the race. This is an absolutely great claymation short movie and a deserved winner!
[youtube https://www.youtube.com/watch?v=UCmMebE0pIg]
I am really, really looking forward to seeing the feature film THE ABC's OF DEATH and so should you!
Congratulations to Lee Hardcastle and I wish you good luck for the future, your movie does not have to hide behind the other great names!
Important Links:
THE ABC's OF DEATH
Hardcastle's Youtube Channel