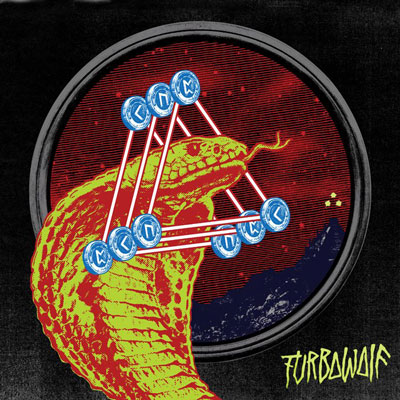 Beelzebub's newest breeds call themselves Turbowolf. Striking riffs, powerful lyrics, wolves on fire, the turbo is loaded right from the start. The fact that sometimes you get the suspicion to have heard all this once before in the past doesn't dampen the mood.
Young Alice Cooper welcomes you on the journey through the river Styx. Turbowolf's debut is pure stereotyped poser-riffmaster-rock'n'roll. Take it or leave it. Their style is nevertheless pretty multifarious. It actually goes from Metallica to a metal version of The Hives, but far more trashy. Not to forget the playful use of Nintendo-like electro-sounds.
Young John Garcia meanwhile never fails to summon you successfully to bang your head. After a fast first half of the album, with songs like the heavy Ancient Snake, The Big Cut makes you realise that the intensity is unlikely to weaken.
And if it does, the storm never really is over. Young Axl Roseleads you through a slower song called Son (Sun), though "slow" is not a synonym for "weak". The final song is nothing but the best possible way of starting a live concert in order to make everyone totally freak out. Too bad you have to wait until the end to enjoy Let's Die, but hey, a nice thrill of anticipation is always good.
A very powerful debut of the four guys from Bristol. However, as far as I'm concerned, I would spend some time in the sound: it is ugly like hell, which is a good thing, but in general, it is bog-standard and the energy of Turbowolf deserves more!
Recommendations: Ancient Snake, The Big Cut, Let's Die.
[youtube https://www.youtube.com/watch?v=VGcUhhTA-xM]