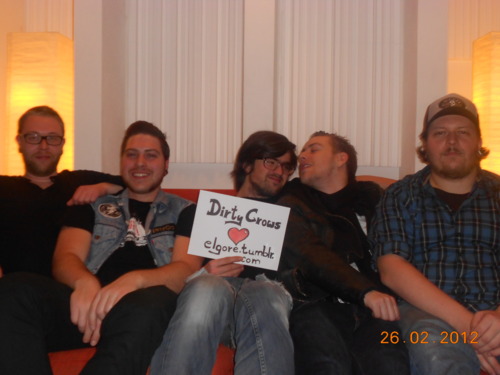 Here you have the last part of the studio diary from our beloved Dirty Crows. Enjoy!
Tuesday: Recorded the bass, edited the drums, which took lots of time. Not a very productive day, did a bit percussion afterwards. Marc caught a cold, so we're a little worried about his voice because there's still lots of vocals to record. Mauro's girlfriend Liz brought him something from the drug store, we bought him a Playboy magazine. Let's see what helps more (no comment. -elgore-). We made a little video greeting message for our friends from Angel at my Table for their release on Saturday.
Wednesday: Bass recordings, drum edits, only cold water in the shower (use the Playboy! -elgore-), but hey, that's rock'n'roll! Had a cool evening with our studio neighbour, a dude who records an album on his own.
Thursday: Bass recordings (are you Death From god damn Above 1979 or what? -elgore-). Played the Fender Jaguar over the bass amp plus octaver. Recorded Marc's guitar and his vocals and then again drum editing. Felix from The Lost Ways passed by, very cool guy, lots of music talk and had a beer together. A whole case to be honest (yep, we can imagine! -elgore-). Started talking French only so that Jan was thinking that we're drunk, but we weren't (mmh mmh -elgore-). Daniel did some background recordings until 2am.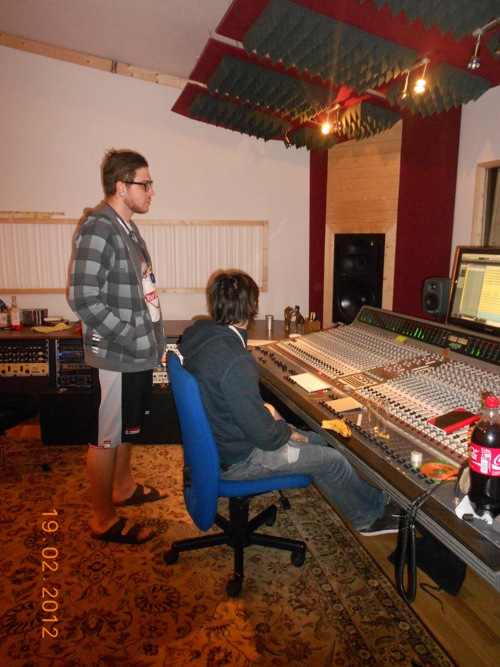 Friday: Bass recordings (oh really?! -elgore-), only one song left for Mauro. I (Phillip) recorded some hard and crazy guitar sounds and Marc did his guitar and vocals. Daniel did some backround vocals again and then we worked on a special feature (will be a surprise for you) until 5am. The Lost Ways were here today, we had lunch together and talked about potential concerts for the summer. Stay tuned!
Saturday: Finished the bass (hallelujah! -elgore-) guitars, percussion and background vocals. Recorded two new features (another surprise) and also recorded an organ. Marc's voice still causes worries.
Sunday: Back home again! Thanks for reading and stay tuned! And thanks to Liz for her excellent cooking!
Check out part one.