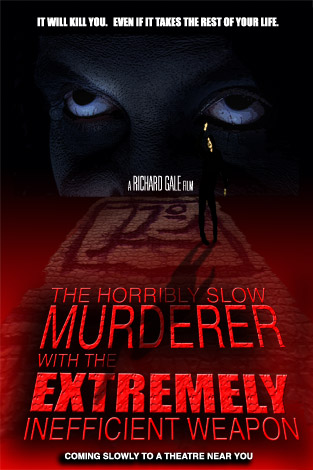 I am pretty sure that, even if you aren't into short "horror" movies, you probably know the one I am going to write about today. Although the flick is from 2008, I still remember that I got into it pretty late and I think it was Eric (again?) who showed it to me maybe 2 years ago. I am talking about The Horribly Slow Murderer with the Extremely Inefficient Weapon.
With this brilliant no budget flick, Richard Gale succeeds in doing a jocular and sapid parody of horror flick clichés and creates a unique and utterly humorous Monty-Python-ish story. An absolute classic, seldom seen!
Director, producer and writer Gale presents us a high image quality flick, well functioning Final Cut special effects and a solid, sarcastic storyboard character (Ginosaji). As I don't know much about Gale's other works, I can't write about his workflow or ideology of doing flicks. But when I found out that he isn't only responsible for directing, financing and writing, but also did the camera and cutting work in combination with the incredibly well-chosen locations, I've got the strong urge that this guy is a perfectionist.
What I like most about The Horribly Slow Murderer with the Extremely Inefficient Weapon is also probably something why a lot of people do not like it at all. Like I already said, the shorty is very Monty-Python-esque and abuses the same joke again and again and again (and again and again and again…), and it seems that at some point the movie drifts in completely boredom but Gale is very clever and by the exaggerated re-using (of the same joke) he manages to go beyond the point of annoyance and fell into hilarious ingenuity.
This is a must see!!
[youtube https://www.youtube.com/watch?v=9VDvgL58h_Y]