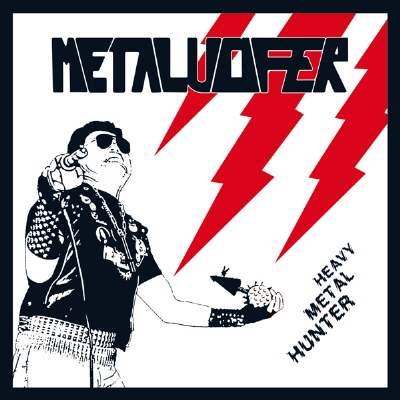 Metalucifer have been in existence since 1995 and Heavy Metal Hunter is their 2nd release.
The Ep is a classic release for various reasons. The main reason being the music. It just is that great! Especially if you know something about the history of Metal and how bad the scene was back in 1996 when this Ep first came out. Another reason being the fact that it is a Sabbat side project. For those of you unaware, Sabbat are one of the oldest Black Metal bands in existence. They started out as Evil in 1983 (!) and play, still to this day, in the old Venom vein.
Each song can be found on multiple other releases, albeit in different versions. Personally, I do enjoy every version of each song. The band does not just record the same song over and over again but each version is different (vocals in English or Japanese, different solos, different lyrics, etc).
The Ep starts off with their classic Heavy Metal Hunter, a hymn to the genre and the bands mentioned in the lyrics. One does not simply sit still while listening to the song. I know that I cannot help myself imitating Gezols' accent when singing along to "Heavy Metal Hunta…HUNTAHH!!!".
Monster of the Earth is a slower number in the vein of early Iron Maiden (as is most of the material this band has ever released). The funny thing here is that it sounds very Japanese in an Anime way, meaning that I can imagine this song being played in an 80s or early 90s Japanese Anime. It has the silly lyrics, overly melodic guitar solo, etc.
Fallen Angel has that classic 80s Venom vibe and sounds more like a Sabbat song. In fact it might just be that as I know that some Metalucifer songs already existed in the 80s and were played/recorded by Sabbat (Wolf Man being one of those). Anyways, another great song for fans of 80s Metal.
Wolf Man starts off with a Speed Metal riff and might be the fastest song on the Ep. It is one of my all time favorite Metalucifer songs. Just listen to that chorus once and you will never forget it, EVER! I can not count the times I found myself singing "Oh woulf-uh man aww uh ooh". This song, along with the next 2, is in Japanese….apparently. See, the thing here is that you just can't tell because of Gezol. His English does sound Japanese at times and when he does sing in Japanese you don't realize it. That is not meant as criticism though.
Bloody Countess is another song that I own on countless Sabbat/Metalucifer compilations/singles as a demo version. Same as with Fallen Angel, this sounds more like a Venom/Sabbat song and, in fact, it was written for Sabbat in the 80s. The middle harmony part is total Iron Maiden worship and leads into an awesome solo. That part always reminds me of Rime of the Ancient Mariner by Iron Maiden.
Headbanging is another fast Speed Metal song with a sing along chorus and sounds like faster Accept songs or even early Metallica.
I am reviewing the recently re-released 12" which, apart from the original 6 songs, has a bonus track in Thrash Metal Hunter. The song is, sadly, not a new one as I have it on the Heavy Metal Hunting compilation, if not on more releases. Former Death and Massacre drummer Bill Andrews sits behind the drum kit on that song.
It basically is Heavy Metal Hunter with different lyrics. I do not know if I am just used to Heavy Metal Hunter or if the lyrics don't go down as well. I just prefer the original version.
All in all, I do own 3 different versions of this Ep and they all seem to be rare and hard to find. Chances are you will have to get this re-release if you want to own it. Personally I would recommend the first CD and vinyl re-releases just because they have more bonus tracks.
Either way, this is great music, so it does not matter which release you get, as long as you get it!
[youtube https://www.youtube.com/watch?v=ymUEpF0YXkI]