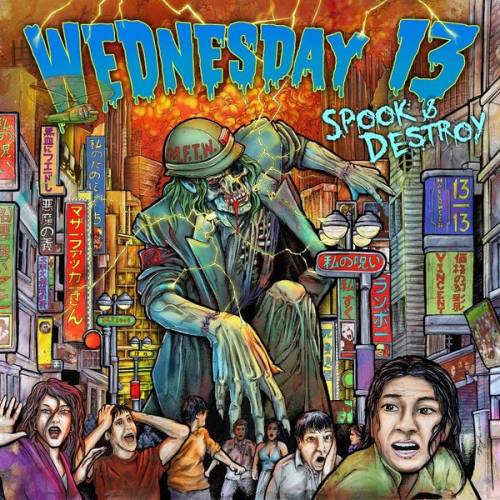 It's Halloween! So what better way to celebrate the arguably coolest holiday of the year than listen to some spooky tunes, watch horror movies and have a couple of beers? I'll try to provide at least the musical part with today's review: Wednesday 13's recently released EP Spook & Destroy!
Wednesday 13, who is known to most for his vocal duties in Murderdolls, has been active for almost two decades now and has amassed quite a respectable library of songs and on this eight song EP he decided to do something special for the long time fans: remake three of his older songs in a more timely fashion. The songs he chose for this are Mr. Motherfucker and Rambo from his former band Frankenstein Drag Queens Of Planet 13's album Night Of The Living Drag Queens, as well as Bad Things off his solo record Transylvania 90210: Songs Of Death, Dying, And The Dead. On top of that you have an acoustic version of the song Curse Of Me off Fang Bang and two electro/dubstep remixes of Rambo and Bad Things. Finally, to round it all off you have two completely new songs which are supposed to be a teaser for his next album The Dixie Dead which is scheduled for release in 2013.
But enough basic information, let's take this thing apart! The production is generally speaking what fans are used to: nothing groundbreaking but just right for the genre, meaning that it won't distract from the essence of the songs but you won't have to shield your ears from bad sound either. The same goes for the instrumental division, where the motto has always been "why show off with crazy riffs and drum fills when you can accomplish just as much with simpler stuff"; or at least that's what I always associate with this type of music. The lyrics have always been mostly horror-themed and nothing has changed here either. But why change something that isn't broken? I like it.
The new songs, M.F.T.W and Halloween 13-13, are quite cool and I'm definitely looking forward to the rest in 2013 but I hope that there will be a bit more variation. The three remakes are definitely a step-up from their older counterparts and made me rediscover them for all their old goodness. The acoustic song is kind of weird but in a good way…something that you'll have to listen to several times before you warm up to it. And last but not least come the two remixes…which I, sadly, don't like at all…but I'm not a fan of remixes in general to begin with.
To conclude, I have to say that this EP is probably more aimed at die-hard W13 fans than new fans but it pretty much gives newcomers an all-around taste of what this guy is all about: fun and enjoyable music. So if you're curious, check out the song below and visit Wednesday 13's Facebook page! And if you liked it: he's playing in Luxembourg on the 14th of November. Happy Halloween Ghoulies!
[youtube https://www.youtube.com/watch?v=ya2GYOpDQXY]