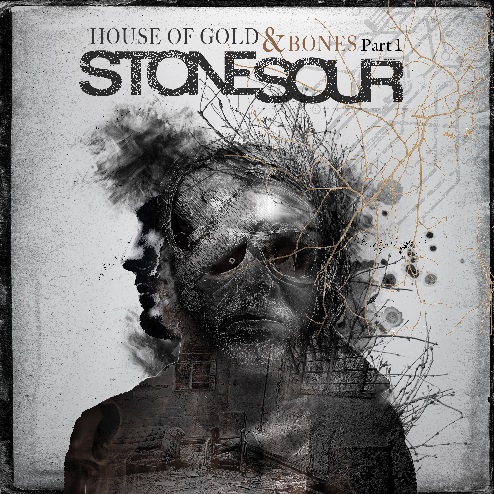 Stone Sour are back! Their new record House Of Gold And Bones Part 1 was recently released and since they're among my favorite bands of all time I decided to review it, even though they hardly need any special attention since they have a solid fan base already. As you guys might have noticed from past reviews, I'm a pretty big fanboy when it comes to anything Corey Taylor related so I'll warn you: I might not be super objective from here on out, but I'll try.
First things first: HOGAB Part 1 is the first of two concept albums, with the second one being released in early 2013 along with a tie-in comic published by Dark Horse. Secondly, I think it's important to note that the band has moved away quite a bit from the way they sounded on their self-titled record, which is a reason why many of the previous listeners might have a rude awakening in they case they haven't followed the evolution that Stone Sour has undergone with Come What(ever) May and Audio Secrecy. Even though I have followed everything they've done since first discovering them I was still a bit surprised on my first listening session…but I can safely say that this album is a grower if you give it a chance to unfold.
To be more concrete: I'd say it's a rockier sound, similar to the previous record, but with a lot of heavy parts thrown in there. Some of the riffs are so genius with the way they creep up on you, especially after re-listening to the eleven tracks a second or third time. The same goes for the drumming, which has a lot more rock'n'roll beats than before but way cooler drum fills than what you're used to.
The vocals are, as you probably guessed, exactly what you expect from the Great Big Mouth: powerful and flawlessly executed. The same goes for the lyrics, which tell the story of The Human, who is constantly questioning himself and his surroundings. So far that's all I can get from the songs, and I hope to explore them further after Part 2 has been released. And to everyone who was not really into the softer side of Audio Secrecy: rest at ease; there's only two ballads this time.
I'm confident to say that even a non-fanboy, unlike myself, will spend forty-three minutes with this record that they won't easily forget…especially if it's their first contact with Stone Sour. To returning listeners I can only strongly recommend giving this album a chance even if at first you might be put off. I for one am really looking forward to House Of Gold & Bones Part 2 next year. Check out the band's Facebook page and listen to the song below if I got you interested.
[youtube http://www.youtube.com/watch?v=Tm-yNBwhC3o]